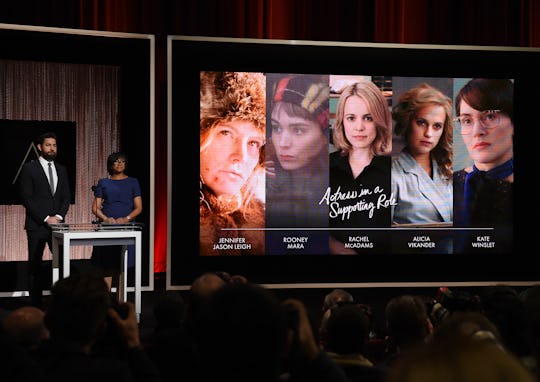 2016 Oscar Nominations Honored Women's Work & Experiences, & It's A Huge Step In The Right Direction
The Oscar nominations were just announced and film aficionados are abuzz with predictions, tallies, and surprise twists from the Academy, but one count really worth noting is how women did in the Oscar nominations announcement. Outside of the Best Actress category, women have been traditionally scarce, not only among the nominees, but across the film industry at the Academy Award show (and even throughout the entire award season circuit). This year, there is a little progress. Not much, but there's some. Here is a rundown of how women fared at the Oscar nominations.
There are no big surprises in the Best Actress category this year, but the important thing is the sort of films these best actresses were starring in. Carol is a love story about two women, Joy is a take-charge Cinderella retelling, Room plumbs a mother's psychological strength (FYI it's pretty strong), Brooklyn follows a young woman making it in a new city, and 45 Years takes a simple marriage story and turns it on its head. Given Star Wars' snub and Mad Max's amazing 10 nominations, it's a little surprising that badasses Charlize Theron and Daisy Ridley were totally overlooked, but their films at least are getting recognition (sci-fi action films, no less, which is somewhat new territory for the Academy).
The point here is that there are always Best Actress nominations, but the progress is in the type of films they get to act in. And this year, the Oscars listened to what women have been telling them year after year: representation matters, and stories that involve women are no longer one-dimensional, flat love stories where the female lead relies on a man to get her through. None of the roles played in this year's heavily nominated films depict damsels in distress, nor are they stereotypes.
Whoever wins, it's a win for women.
As for this year's landmarks, Jennifer Lawrence, nominated for playing Joy Mangano in Joy, has become the youngest person to get a fourth Oscar nomination in history. Ever. If that's not a win for women, I don't know what is.
Alicia Vikander was nominated for Best Supporting Actress in The Danish Girl. Not only was her performance phenomenal, but it is the first time an onscreen trans relationship has been featured in the Oscar roundup. That said, the film featured a cisgender man playing a trans woman, rather than casting a transgender actress, but I'm trying to be optimistic.
The real disappointment this year is the complete lack of women directors. Alejandro Iñárritu, Tom McCarthy, Adam McKay, George Miller, and Ridley Scott were the directors to win nominations this year, and that list illustrates a problem within the industry. It's not that women directors lack talent or drive; it's that they lack opportunity to be in those positions. This was covered quite a bit last year and came to a head with response Jennifer Lawrence penned about the Hollywood wage and opportunity gap.
Nowhere is that gap more apparent than in this category.
With every nomination success comes another disappointment. Women writers were honored; women directors were absent. Films with female leads were honored; women of color were absent. Feminists everywhere can only hope that things are going in the right direction — and here's hoping that 2017 will bring even more success than this year did.
Image: MARK RALSTON/AFP/Getty Images