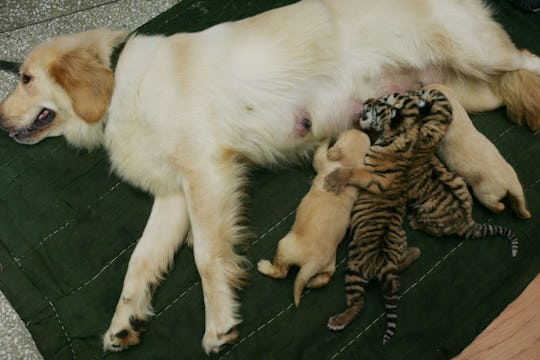 China Photos/Getty Images News/Getty Images
You've Never Seen Postpartum Pooches As Cute As These Before
Most dog mothers don't get the credit they deserve for bringing puppy perfection into the world since humans adopted the "dog mom" label. So I'm gifting you with 21 beautiful pictures of dog moms post-birth to help you fully appreciate how amazing these fierce creatures are. And before you ask, yes, there are puppies in the pictures too.
I think part of the reason society doesn't recognize dog moms is because we don't often see puppies with their actual moms. You may catch a glimpse of the canine momma when you pick up your new fur baby, but if you're getting your dog from a shelter, you most likely won't even lay eyes on your new baby's birth mother. But these biological moms are important even though they're only in your dog's life for a few weeks, especially when you think about how many babies they have at once. Most dog breeds have about five to six puppies per litter, but the record for largest litter ever is 24 puppies (thanks to a Neapolitan Mastiff named Tia, according to Vet Street). Imagine if humans had to do that.
Dog moms should not be trifled with, and it's time we start showing them the respect they deserve. So check out these 21 adorable photos of postpartum pooches, and good luck restraining yourself from getting another puppy after your look through.