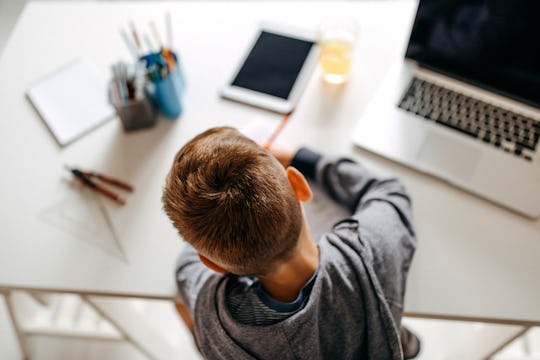 Eclipse_images, Getty Images
21 First Day Of Remote Learning Instagram Captions That Embrace The Chaos
If you have a tradition of lining the kids up outside for an annual first day of school picture, this year should be no different (even if everything else about this year is so different). Since no one will be seeing your kids' new shoes or their tentative but excited first day smiles in-person if they're distance learning, it makes total sense to share a pic on the 'gram with one of these 22 first day of remote-learning Instagram captions.
Whether you're looking for a cheeky sentiment that will have other parents laughing and nodding in solidarity, or you're sending some positive vibes your kiddos' way, or thanking teachers for instructing through a screen (a job they never really signed up for), there's a caption here for you — and it just might be a quote from a fabulous famous person (Hi, Michelle Obama).
You've been busy getting the products you'll need for a home classroom, not to mention checking the speed of your WiFi, explaining to your little one that school will be happening from home this year, plus you know, doing your own job, so you probably haven't had a ton of time to think about clever quotes. I've got you covered with these 22 Instagram captions you can use you to capture that first day of distance learning feeling.