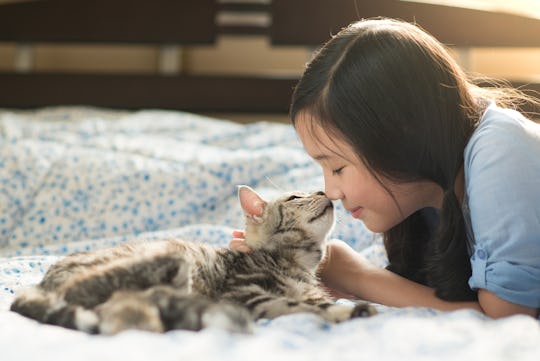 Shutterstock
25 National Cat Day Instagram Captions To Celebrate The Real Royals In Your Life
Celebrating the feline friends in your life that love to nap on the back of your couch, curl up in your lap, and knock everything they can reach off of your countertops is something that cat lovers do most every day. These 25 Instagram captions for National Cat Day are perfect for spotlighting your beloved kitty cat with just a bit of added gusto on Oct. 29.
Didn't already know about the cat-centric holiday? Well, now that you're aware that National Cat Day exists, you can take this opportunity to take what you already do for your fur babies on the regular (gushing about them on your social) to the next level with a fun caption for your Instagram post about how amazing your pet is.
The National Cat Day website offers a plethora of ideas for how to celebrate on National Cat Day including volunteering at a local cat shelter, baking cat-shaped cookies, and grooming your cat. Honestly though, celebrating your cat and the love you share for your fur baby is as simple as snapping a pic and throwing it up on the 'gram with one of these 25 captions for National Cat Day. Your cat may not be able to read them, but all of your followers will surely enjoy seeing pictures of your cat with a witty caption.