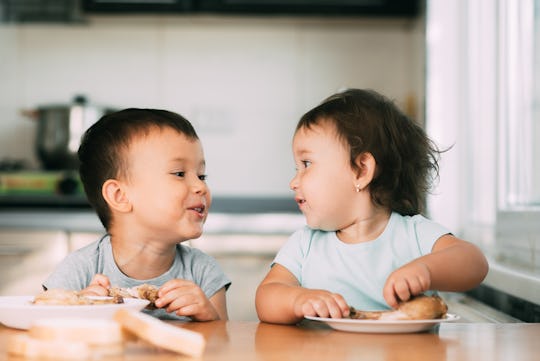 Shutterstock
You Can't Beat These 25 Sheet Pan Dinner Recipes That Kids Will Actually Eat
When you're a parent, the most important part of any meal prep is ease. You want to make something your kids will actually eat, and the less effort you have to put in to whatever dish that is the better. These sheet pan dinner recipes kids will actually eat are here to help you make dinner as easy as possible, as well as give you a meal the whole gang will love.
I'm a fan of sheet pan recipes because you pretty much just have to throw the ingredients onto the pan and you're done. The recipe might require a little prep before the bake, but the oven will do most of the work for you, giving you time to do the million other things on your to-do list. Plus, they're an easy way to make sure your kiddos get all their nutrients, as the majority of sheet pan recipes combine a protein and a veggie. (Don't worry, the list below offers vegetarian options, too.)
But best of all, they're fun recipes. From creative takes on pizza to barbecue dinners, sheet pan recipes give your family a dinner they'll actually want to eat, without putting unnecessary pressure on you. So read on for 25 delicious sheet pan dinner recipes your kids will love, and make sure you have a clean pan ready. Dinner is served.