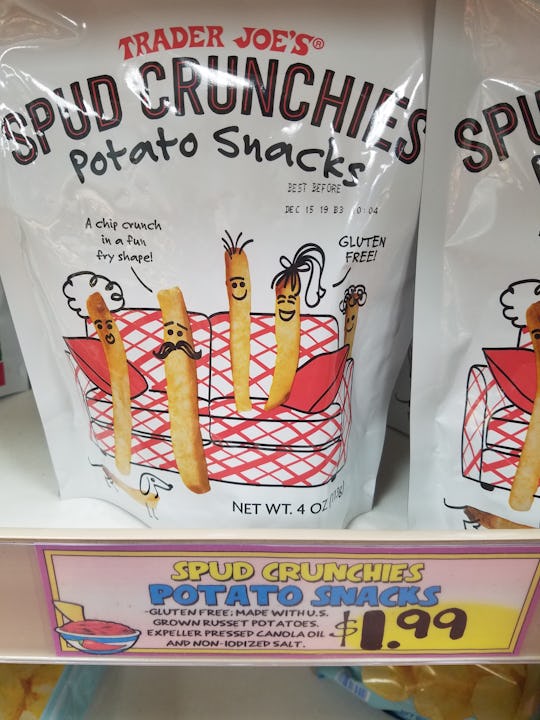 From Cupcakes To Crackers, Kids Will Love These 18 Gluten-Free Trader Joe's Snacks
Gluten-free products are appearing in increasing numbers in major supermarkets, a trend that has inspired more than a few jokes and eye-rolls. However, for parents whose children have certain medical conditions, a gluten-free lifestyle is no fad or joke, and the products are a godsend for their families. For example, they're grateful to be able to find a wide assortment of gluten-free snacks at Trader Joe's, which make it easy for them to feed their kids without fear.
While some adults adopt a gluten-free (GF) lifestyle in hopes of losing weight, gaining energy, or healing their digestive woes, most people don't really need a gluten-free diet, according to medical experts who spoke to Self. Then there are the people who really rely on GF foods to stay healthy. Children and adults who have been diagnosed with the immune disorder known as celiac disease have to avoid any food made with wheat, rye, or barley. All these grains contain gluten, a protein that affects the small intestine in people with the disorder. For people with celiac, even a few crumbs of regular bread can damage the intestinal lining, explained the Celiac Disease Foundation. Since GF foods contain no wheat, families of children with wheat allergies may opt to try some of these products as well.
As Openfit reported, in addition to GF products such as baking mixes and frozen pizza, Trader Joe's has a good variety of snacks that can be packed in a lunch box or brought along to a party or playdate. They look and taste almost exactly like their gluten-containing counterparts; more importantly, they help kids with special dietary needs feel included.