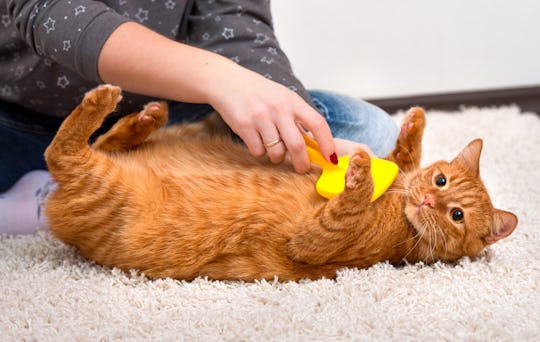 Shutterstock
Celebrate World Cat Day With These 25 Memes That Only Care About Cats (Like You)
Any cat owner will tell you that their feline friends simply do not get enough respect. Although research is still pending on the shocking lack of cat appreciation plaguing the nation, it's clear that dog lovers rule the world, leaving cats to hack up hairballs in the dust. But there's one day every year in which the tables finally turn. On this day, cat people from all over the world come together for a solid 24 hours to share World Cat Day memes and bask in cat-owner glory. They've only been waiting 364 days for this moment, after all.
Over the years, cats have acquired something of a bad rap. To some, they can come off as aloof, unemotional, and maybe even a little ornery from time to time. But dig below that surly surface and you'll find a loyal companion who yes, won't stop throwing up in the worst possible places, (behind the couch… seriously?) but who will always be there when it matters. They deserve to be celebrated, as do the cat parents who put up with their questionable antics.
Cats also have way more personality than people give them credit for. Within the scope of pet-related humor, they're not exactly characterized as lovable goofballs the way their canine counterparts are. However, they certainly exhibit many of the same silly behaviors. These hijinks, paired with a little bit of that characteristic grouchiness, is what makes cat memes seem like comedic gold. Whether you're a cat lover looking to swan dive into an Internet hole of cat humor, or a skeptic trying to figure out what people see in these guys anyway, these memes are the perfect way to celebrate World Cat Day.