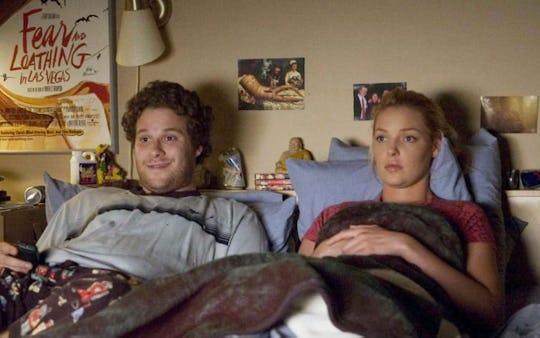 Universal Pictures
3 Big Signs You & Your Partner Would Be Better Parents If You Weren't Together
There are at least three parenting-related decisions I feel incredibly adamant about no one giving anyone even a tiny bit of input on. Those decisions include: what you do with your body the minute you find out you're pregnant, how you give birth, and how you choose to handle your relationship with the other person who helped create that tiny human you birthed. Having said that, I do think there are signs you and your partner would be better parents if you weren't together, and while you absolutely do not (read: should not) take my exclusive word for it, knowing those signs exist can help you make your own decisions regarding your relationship with a partner and/or potential co-parent without any outside influence.
It's no secret that there are numerous ways to not only parent, but become a parent (although today it seems nothing short of necessary to continue repeating this fact ad nauseam). So if that means you select the anonymous semen of a dude with very straight teeth and no family history of degenerative brain conditions — and then go on to raise your biological collaboration by yourself or with someone else — fantastic. If it means you got pregnant by an asshole who's an actively toxic and/or dangerous person, but you really want to parent the baby and you decide to do so alone with firm, safe, protected boundaries, then hell yes. If it means you marry someone and make a baby, and you're crazy good teammates and still love making out with each other and raising your little human together, so you guys all stick around and do that together forever, that's great, too!
And it might be, in the course of everyone trying to find the best way to be happy, you and the person you made a fresh human child with realize that the parenting aspects of your lives are working just fine, but the actual romantic relationship is, well, not.
Entertaining the idea of severing your romantic relationship with your kid's other parent is not only daunting and terrifying, it can inflict such heavy loads of self-doubt that it can feel like your body itself is being pulled apart violently. Even the most self-assured among us, who have a lifetime of boldly steering our own course and paying very little mind to what convention tells us is the right way to go or the correct choice to make, get hit with punishing, intrusive thoughts. What if this is just temporary stress? What if things could get better? Will this ruin our kids' lives? Will it ruin my life? Will we be able to harmoniously co-parent if we split? Will we stay friends? Will I die alone while perusing the Instagram feed of my ex's upgraded rebound partner and their exceedingly gifted Round Two Baby?
I mean, fair. These are fair questions. Or rather, it's reasonable to think them. Taking any significant part of your life and being like, "Hmm, what about radically changing every single thing about this thing that I can't imagine living without, and turning it into something that I can't name and don't know how to build?" is legit scary.
Which is, again, why you should never take anyone else's input on this kind of decision. There are too many variables, too much nuance, and in the end, it's a gut check. In the spirit of helping you help your gut check itself, I offer three points to consider: