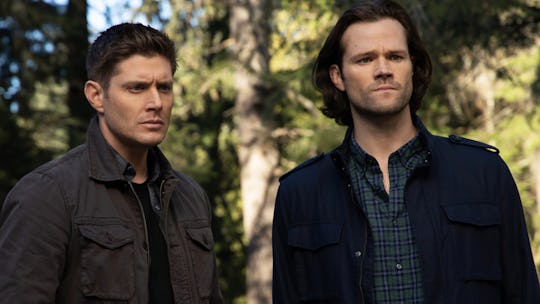 Jack Rowand/The CW
These 'Supernatural' Season 14 Finale Theories Set Up A Bittersweet 15th Season
This is it. This is the last Supernatural finale before the series finale. And naturally, all hell is breaking loose. On Mar. 22, Jared Padalecki, Jensen Ackles, and Misha Collins announced that The CW show was coming to an end, but not before a phenomenal Season 14 finale and 15th Season. The final episodes of the 14th Season have led up to a nerve-wracking finale that will likely spill over into the concluding season. So with only one episode left, fans have pieced together a few Supernatural finale theories that will help tide you over until the curtains fall on Season 14.
The Apr. 18 episode of Supernatural, titled "Jack in the Box," set up the season for the finale. Dean trapped Jack in a box that was originally built for Michael. However, Jack was able to use his power to escape, and in the final moments of the episode, Jack came face-to-face with the men who trapped him. So what happens now?
In the preview for the Season 14 finale of Supernatural, titled "Moriah," tensions are rising between Jack's three former father figures. Castiel is furious at Sam and Dean for locking Jack up in the first place. Dean claims that he wanted Jack dead, but Sam reminds him that Jack was the one who burned his soul off to save them. Regardless, it's clear that the speech wasn't enough for Dean because the promo later showed Dean pointing a gun to Jack's head. "I understand," Jack says as the trailer cuts out. Yikes.
Are you as stressed for the Supernatural Season 14 finale as I am? If you are, these theories may help you cope with what's looming over fans as the series prepares for its 15th and final season.