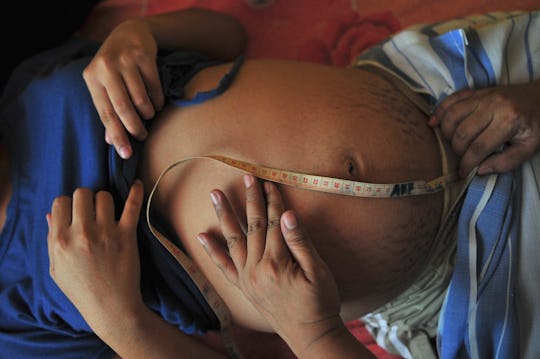 Veejay Villafranca/Getty Images News/Getty Images
Where To Find Free & Affordable Prenatal Care
Since Donald Trump's unexpected election win in November, uncertainty about the future of life in the United States has ballooned for some particularly vulnerable populations, such as undocumented immigrants, LGBTQ people, and those who rely on the Affordable Care Act to access health care. President Obama's 2010 legislation, which insures 20 million people who may not otherwise have coverage, is on the precipice of obliteration now that Republicans control every branch of government — and that means the health insurance industry could revert back to selling plans that don't cover prenatal care or childbirth. So, it's important for women who are pregnant or who may get pregnant during Trump's term or terms in office know the places to get cheap or free prenatal care. Access to even these could shift after Trump's Jan. 20 inauguration, but progressives in power will likely continue to fight to ensure women are covered.
Trump has been adamant about his intention to dismantle key provisions of the ACA, more commonly known as Obamacare, but less clear on how — or even whether — he plans to replace it after the eventual (and seemingly inevitable) repeal. If top Republicans are successful in their quest to get rid of the law, which essentially mandates that all people purchase coverage to generate funds for even sick and poor people to receive it, the protections it affords pregnant women and new moms will be on the line.
Obamacare made it non negotiable that all insurance plans must include pregnancy, maternity, and newborn care. But before its passage, it was rare for such plans to cover prenatal care and childbirth, according to NPR, with some offering coverage for such services as add-ons, which would pay for just a predetermined, fixed cost. And after some maneuvering by conservative lawmakers, who are undoubtedly feeling emboldened by the president-elect's campaign promises, insurance companies could very well legally go back to treating being a woman — let alone a pregnant one — as though it's a preexisting condition.
This, of course, would make free and low-cost prenatal services even more indispensable. Here are a few places that may get growing families through to 2020, and beyond.
Planned Parenthood
Of course, Indiana Gov. and Vice President-elect Mike Pence has long engaged in a crusade to deprive Planned Parenthood of the federal funds it needs to operate, but, for now, the reproductive healthcare provider is a vital resource for women experiencing many stages of pregnancy and related decision-making. According to the comprehensive health information website Verywell.com, Planned Parenthood offers prenatal services — such as ultrasounds and regular checkups — on a sliding payment scale based on the patient's ability to pay.
Women's Care Center
Working from 24 centers in eight states, Women's Care Center "provides free, confidential counseling, support, and education to women facing unplanned pregnancies," according to its website. This includes pregnancy testing, ultrasounds, and providing trustworthy referrals for additional resources and ongoing care. To get in touch, women can email a counselor at angela@womenscarecenter.org and get connected with locations in states including Ohio, Wisconsin, Maryland, and Florida. And, notably, Women's Health Center boasts its most vibrant presence in Indiana, with 10 locations. It was in that state that Pence, as governor, pulled funding from the Planned Parenthood in one county, eliminating HIV prevention programs there and triggering an outbreak.
U.S. Department Of Health And Human Services — Your Local Health Department
Right now, services to help women pay for their prenatal exist in all 50 states, according to the official website of the Office on Women's Health. To find out how to get free or reduced-cost services, women from anywhere in the country can call the toll-free number 800-311-BABY (800-311-2229), which will connect them with the local health departments that corresponds with their area codes. For information in Spanish, call 800-504-7081.
Medicaid
Medicaid exists to ensure that all low-income people have medical care. It's government-sponsored and will cover pregnant women whose income levels fall at or below 133 percent of the federal poverty level. Those who qualify, according to Americanpregnancy.org, are "covered for all care related to the pregnancy, delivery and any complications that may occur during pregnancy and up to 60 days postpartum." To get started, pregnant women in need of care should contact their local Medicaid office.
How exactly the incoming administration will alter what it means to be pregnant in the United States is beginning to take shape, but it's not yet set in stone. Government officials can work to make sure women who need free or low-cost services know where to get them while also fighting to protect coverage under the Affordable Care Act and entities, such as Planned Parenthood, that provide crucial prenatal services.