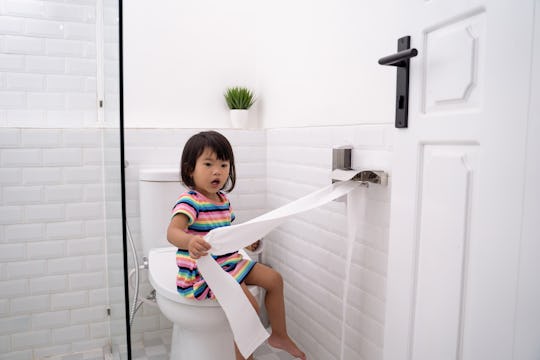 Shutterstock
These Are The 4 Reasons Your Toddler Is Freaked Out By Using The Toilet
Children are justifiably proud of all the skills they master during the important toddler years: running and climbing; feeding and dressing themselves; taking on simple chores like putting away toys. That's why parents are baffled when something as basic as potty training becomes a major struggle. Part of the problem is that toddlers are often afraid to use the toilet, and understanding why can go a long way toward conquering those fears and saying goodbye to diapers forever.
"Potty training fears are the number-one reason parents hire me as a toilet-training consultant," registered nurse Violet Giannone, RN, tells Romper. Giannone, who runs the Ready to Potty site, adds, "It can be extremely frustrating to potty train a child that is by every measure potty-training ready but will not go because he is afraid."
Many parents find that their children learn to pee in the potty fairly easily, but going number two is their number one struggle. Allison Jandu, owner of Potty Training Consultant LLC, surveyed more than 200 parents online and found that more than half of them reported having difficulty convincing their children to poop in the toilet. Another 10 percent admitted it was the most difficult part of their entire parenting experience. "The older the child is, the more likely it is that this issue will arise," she tells Romper in an email interview. "If you think about it, the longer you wait to introduce the potty, the longer you are letting that habit ingrain in them, and the more resistant they will be to change when the time comes."
This, and other common issues, can make the potty training process seem endless. But never fear: Giannone and Jandu offer these insights into toddlers' fears, along with effective strategies for overcoming them.