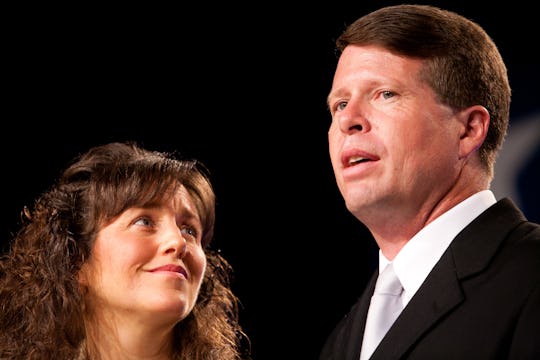 Brendan Hoffman/Getty Images Entertainment/Getty Images
4 Shocking Facts About Jim Bob Duggar From Before He Became A Reality Star
It's fair to say that fans of TLC's hit reality show 19 Kids and Counting and its spin-off Counting On know the Duggars pretty well. The conservative family from Arkansas is fairly open in their hit television series, as well as on social media, about their lives and their beliefs. Still, that doesn't mean members of the Duggar clan can't surprise you. In fact, here are four shocking facts about Jim Bob Duggar that most fans may not know.
Before becoming a reality star, Jim Bob had an active political career in his home state of Arkansas. He also made an attempt to breakthrough on the national political stage, but fell short. Now, Jim Bob works as a real estate agent and commercial investor, in addition to running one of the country's most famous reality TV households. But he is still active in politics, having stumped for former Republican Gov. Mike Huckabee of Arkansas in 2008 and former Republican U.S. Sen. Rick Santorum of Pennsylvania in 2012 — both in their bids for the Republican presidential nomination. He is also vocal about his anti-LGBTQ and anti-abortion views, and has taken part in campaigns for those causes. Read on to learn more about Jim Bob's political past.
1. He Served In The Arkansas House Of Representatives
Although Jim Bob Duggar is involved in political activism, many Counting On fans only know of his work as a licensed real estate agent and commercial property investor. But the father of 19 children had a career in politics before starring on TLC's hit series 19 Kids and Counting. Duggar was a Republican member of the Arkansas House of Representatives from 1999 to 2002, according to USA Today. He ran for the Republican nomination for a seat in the Arkansas State Senate four years later, according to the Arkansas News Bureau, but did not succeed.
2. He Also Vied For A Seat On The U.S. Senate
In 2002, Duggar didn't seek re-election for his seat on the Arkansas House of Representatives; instead, he ran in the Republican primary election for the U.S. Senate that year, according to BuzzFeed. Duggar ultimately lost the nomination to then-incumbent Sen. Tim Hutchinson. Hutchinson, for his part, lost the election to Democratic Sen. Mark Pryor, who left office in 2015, according to Arkansas Times.
3. He Believed Rape & Incest Should Be Capital Offenses
Not shockingly, abortion was among his list of issues when vying for the U.S. Senate seat. More surprisingly, though, is what Duggar had to say about rape and incest. On the "issues" page of his campaign website, the former politician wrote that "rape and increase represent heinous crimes and as such should be treated as capital crimes," according to the now-defunct site Gawker. (He also explained, using seemingly faulty logic, that "if a woman is raped, the rapist should be executed," rather than the victim seeking abortion.) Of course, as BuzzFeed pointed out, Duggar ran for office around the same time his very-much-alive son, Josh, had allegedly molested several young girls, including his sisters, in his late teens, according to Washington Post.
In response to the allegation, Josh wrote in a Facebook post, according to CNN,
Twelve years ago, as a young teenager I acted inexcusably for which I am extremely sorry and deeply regret. I hurt others, including my family and close friends. I confessed this to my parents who took several steps to help me address the situation. We spoke with the authorities where I confessed my wrongdoing and my parents arranged for me and those affected by my actions to receive counseling.
4. He Sponsored A Few Anti-Abortion Bills As A State House Rep
A search of the Arkansas State Legislature website found that Duggar introduced three pieces of anti-abortion legislation while serving as a state house representative from 1999 to 2002. House Resolution 1012 petitioned Arkansas congressional delegation members to propose a constitutional amendment that would give states "full rights to regulate or prohibit abortion." House Bill 1413 would have banned abortion, except in the case of saving a mother's life, by "protecting" a fetus "from conception to birth." And House Bill 1969 would have forced people would want an abortion to undergo an ultrasound "to show her the size and nature of the fetal life within her womb." Somewhat surprisingly, each of Duggar's bills failed to pass.
It's not surprising that Jim Bob has had such an active political career before turning to reality television. It would be curious to see if he'd ever return once the camera lights shut off.