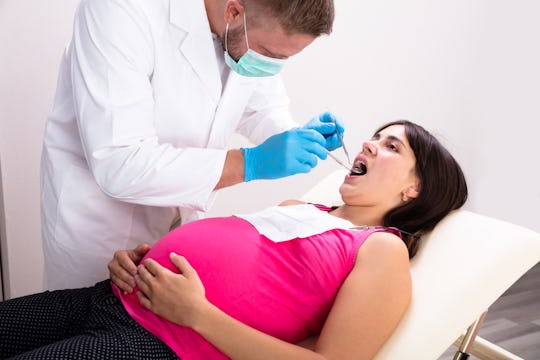 Shutterstock
Here's What Your Dentist Wants You To Know About Dental Health During Pregnancy
When you're going to those umpteen prenatal appointments, your teeth might be the last thing on your mind. That baby bump and the amazing changes going on inside it tend to draw most of the attention. But mom's dental health during pregnancy is no small matter. As seemingly random symptoms might have reminded you (hello, nosebleeds), the systems in your body are interconnected. That means health issues in your mouth have the potential to affect your pregnancy.
Even though the dentist might be the last person on your list to go see during pregnancy, your dental health provider probably wants to change that. Treating the oral health of a pregnant person requires "coordinated effort between OB-GYNs and dentists to reach mothers-to-be," Dr. Stefanie Russell, a dentist at New York University told the New York Times.
I never thought about how my dental health related to my growing baby until I caught a severe toothache during my third trimester and needed a root canal. Clearly, I just wanted the pain to go away ASAP. When I made an emergency dentist appointment, I soon learned that dentists treat pregnant patients very cautiously, sometimes requiring approval from the OB-GYN before offering treatment, as mine did. An infected tooth posed a risk to me and my baby.
But the dentists I spoke to want to see moms-to-be before a problem starts. Here's what they think every pregnant woman should know about dental health.