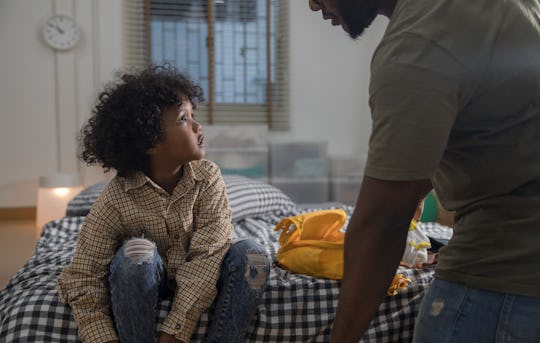 Jovo Jovanovic/Stocksy
These Are The 4 Things Your Toddler Is Thinking When You Yell
I don't think there's any parent who can confidently say they've never yelled at their child. I certainly have (and do I feel guilty about it immediately afterwards? Yes, yes I do). Turns out, your toddler is processing a lot when you yell at them, and as you might expect, pretty much none of what they're processing is positive.
In an interview with Romper, Dr. Kathryn Smerling, a psychotherapist in New York City specializing in family systems, writes, "When a child hears a parent yelling, they feel terrible and don't understand what it is that they did, or they don't necessarily know that it's wrong. Yelling is a learned behavior, and a child who gets yelled at will learn and most likely also yell at people."
Of course, in the moment, it's easy to lose your cool. Every parent, whether they like it or not, has yelled at their child. Out of fear, out of frustration, out of anger — but that doesn't mean your child is destined to a life of feeling like you don't care about them or love them. It's absolutely worth taking a deep breath and rethinking the situation. As Smerling also suggests, "There is a way to let a child know that what they've done was wrong without yelling at them."
Researchers from the University of Pittsburgh discovered after two years of studying children who are yelled at consistently by their parents that "harsh verbal discipline" — cursing, insults, and shouting — can be just as harmful to kids as hitting or spanking. (Remember, that's consistently yelled at. Not happening once a week when you've already wiped up a spilled cup of milk that morning and now there's another because nobody listens about running in the kitchen.)
Meghan Leahy, a mother of three and parenting expert for The Washington Post, writes that when a parent yells, "You're either growing aggression or growing shame. Those are not characteristics that any parents want in their kids. If you yell at your child, you either create somebody who yells back at you or somebody who is shamed and retreats."
Now, while I want to take a look at what children are feeling when a parent yells at them, I also want to stress that we are all human. It's important to keep all of this in mind and practice techniques to decrease yelling, but also to give yourself a break if it happens. We are all flawed humans, but luckily the resiliency of children means there is always another chance to be better. If nothing else, take a look at the parenting style of the Innuit living in the Arctic Circle. They do not believe in anger, as reported by NPR, saying that anger has no purpose and just "wastes time" (I see their point). They believe in storytelling as an approach to discipline, making yelling unnecessary. Kids whose parents don't take alternative approaches to yelling, on the other hand, often have the following thoughts when they're the innocent bystander of a parent's temper.