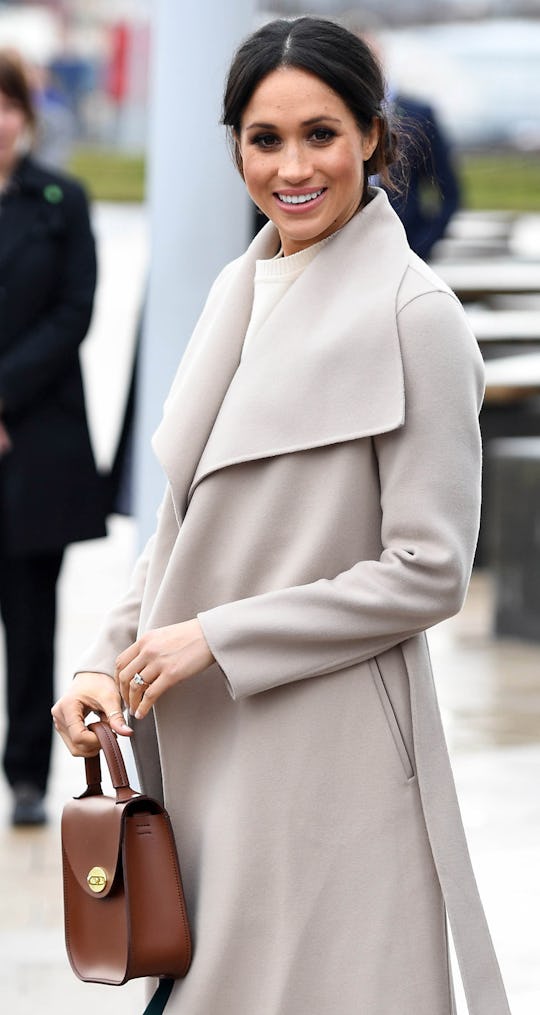 Pool/Getty Images Entertainment/Getty Images
You Can Literally Dress Like Meghan Markle In These Affordable Brands That She Loves
Once upon a time, princesses wore clothing made exclusively for them by royalty-worthy designers and tailors (and maybe the occasional fairy godmother and/or talking mouse). But oh, how times have changed! As Kate Middleton fans know, you're just as likely to see the Duchess of Cambridge wearing an off-the-rack outfit from Zara as a couture Alexander McQueen piece – and her brand new sister-in-law seems to have the same affinity for chain store fashions. So what are some affordable brands Meghan Markle loves?
The recently appointed Duchess of Sussex has already made headlines multiple times for wearing clothes and accessories that are readily available to the masses, like her Reebok Classic Leather sneakers in white (which retail for $75). While it does seem as though Meghan's taste is slightly more luxe than Kate's, she's clearly just as willing to rock a look with a low price point. Sure, Kate wins the crown (literally!) when it comes to turning a dress from Zara or stretch pants from the Gap into a must-have item that sells out in seconds. Still, Meghan is no fashion snob: Back before her engagement to Prince Harry was announced, she was often spotted walking down the street wearing yoga pants or Hunter boots or some other no-fuss fashion. And though her wardrobe has certainly gotten an upgrade since she married her beloved prince, she still mixes pricier pieces with basics from stores where non-royals go to stock their closets.
In fact, learning about the labels Meghan prefers just might broaden your own horizons by introducing you to brands within your price range that haven't made it on to your radar yet. And even if the exact outfits she wore aren't available anymore, the good news is that these oftentimes classic designs are easy to recreate using similar (and similarly affordable) pieces from other ready-to-wear brands. Get ready for some serious shopping inspo!