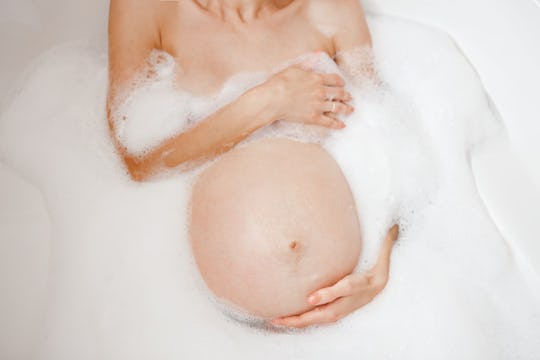 Anna Kraynova/Shutterstock
Cancel Your Plans: 5 Benefits Of Having An Orgasm During Pregnancy
Hello, class. Before we begin today's lesson on the benefits of having an orgasm during pregnancy, I would first like to tell you that I fully understand sex may in fact be the last thing on your mind whilst pregnant, and that is totally fine. As far as I'm concerned, when you are swollen, nauseous, exhausted, and advised not to lie on your back, you should also be freed from any and all pressure to get your proverbial freak on. That's why this article is not about sex. It's about pleasure. Your pleasure. And I'm here to tell you that pregnancy may in fact be the best time to focus on and explore your pleasure in order to achieve orgasm.
Why? Well, I'm really glad you asked. After talking to three experts in the field of women's health and sexuality, what I discovered was that orgasm and pregnancy may be more closely linked than many people realize. And while I hesitate to generalize anything when it comes to pregnancy and a woman's individual journey with it, one thing is for sure: People are not talking about pregnancy and pleasure enough. It's as if the thing that enabled most of us to become pregnant suddenly then becomes taboo once we are with child.
Just because you are pregnant does not mean you can't, or shouldn't, feel pleasure. In fact, many women even feel sexier when they're pregnant. But if you're having trouble tapping into your pregnancy pleasure mojo, fear not. The list below will hopefully provide you with all the insight, motivation and tools you need in order to experience orgasms as big as that growing bump of yours.