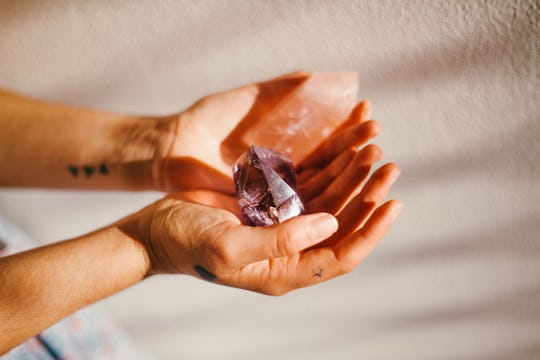 Kara Riley/Stocksy
You'll Try Anything To Get Your Baby To Sleep — Even These Calming Crystals
When your baby isn't sleeping well at night, sometimes doctors will suggest making changes or additions to your little one's bedroom: A white noise machine, a softly-glowing nightlight, a cool-mist humidifier. But when those don't work, you might find yourself turning to more unconventional tactics... like crystals, for example. This is nothing new, of course — people have been turning to metaphysical methods to heal maladies of every kind for centuries — but millennials have picked up the ancient practice anew. So which crystals should you put in your baby's room? Because you'll literally try anything.
First, here's a little bit of info on how crystals work. Different crystals are thought to possess different properties, and the way you work with them can put those energies to good use. Knowing which crystal to pick for your purpose (in this case, sending your infant off to dreamland) is key, but that's just the first step, as Heather Askinosie, cofounder of Energy Muse and author of Crystal Muse told Refinery29. Connecting with your crystal and charging it with your good intentions is also key. "You can program your stones for calming in the same way that you program any crystal — with an intention," Askinosie told Well + Good. Try cleansing the crystal in moonlight, salt water, or the smoke of your favorite purifying incense, "state your intention while holding the crystal or stone in your hands."
Your intention, of course, will go something like: My baby will sleep through the night. Every night. For real. Like actually sleep. Please.