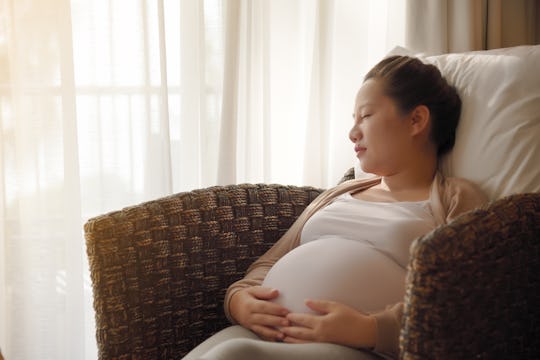 Shutterstock
These 5 Common Pregnancy Ailments Can Usually Be Treated, So Don't Stress
As you embark on your pregnancy, you might worry about what ailments you'll experience. We're all familiar with morning sickness, and we have a general sense that pregnancy comes with a multitude of emotional and physical challenges. However, it's important to note that many symptoms of pregnancy, while uncomfortable, are completely normal. It may be helpful, and empowering, to understand the common pregnancy ailments you can expect to deal with, as well as whether they're something to worry about, so you can find out what you can do to help alleviate your symptoms.
In speaking with pregnancy and childbirth professionals, there was one clear message: You should not hesitate to reach out to your medical providers about issues you're experiencing. "If you have health concerns, keep a list of questions and ask your own doctor/midwife who is taking care of you when you go into the office. You can always call the office too if you're very worried," Dr. Marjorie Greenfield, OB-GYN at University Hospitals Cleveland Medical Center and author of The Working Woman's Pregnancy Book, advises. I like the idea of writing a list — it's easy to forget your previous medical concerns amidst the general hubbub of the doctor's office. Deena Blumenfeld, a registered prenatal yoga instructor, certified Lamaze instructor and childbirth educator, also encourages open communication with your doctor: "If a woman is concerned about her pregnancy symptoms, she should reach out to her medical provider."
While you probably found this article by searching the web (and I'm happy your eyes have made it here), there's definitely such a thing as overzealous web sleuthing when it comes to your health. Dr. Greenfield warns, "There can be a lot of alarming information online: often, when something bad happens to someone they'll post it online and so you tend to see an overrepresentation of scary scenarios. It's always good to seek information from your provider since it will be more tailored to your personal situation." Personally, I'm an expert worrier, and I know what it's like to fall down the rabbit hole of searching for symptoms. Hopefully, this list will equip you with the knowledge you need to combat your concerns.