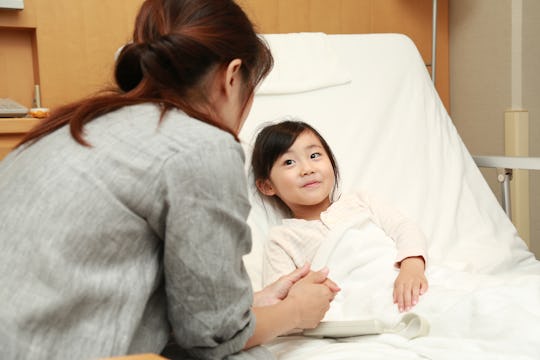 Shutterstock
Every Parent Should Ask Their Pediatrician These 5 Questions, Say PICU Nurses
If there's one thing every parent tries their hardest to avoid, it's having their child admitted to the hospital for an illness. While sometimes the need for inpatient treatment is completely out of a parent's control, there are some key questions to ask your pediatrician, according to PICU nurses, to help reduce the risk.
There are a number of things that can result in a child being admitted to the PICU (pediatric intensive care unit), including complications from common illnesses. "Some illnesses, without proper treatment, can become worrisome and result in a PICU admission," Stacey L. Rose, RN, tells Romper. These include strep throat, the flu, RSV, and croup (for babies). One common complication is difficulty breathing. "Most otherwise healthy children that are admitted to the PICU have some sort of respiratory virus that require respiratory support until the virus has run its course," Wendy Irizarry, PICU RN, tells Romper.
Whatever your child's illness, one of the most important thing is to make sure they stay hydrated. "Parents need tips on how to effectively hydrate a child who is sick and not interested in taking in fluids or food or medications," Lisa Steccato, PICU RN, tells Romper. That's because dehydration, even from a minor cold, can often lead to a trip to the hospital.
These experts say parents can take charge in these situations by asking their pediatrician questions to help them understand their child's diagnosis and treatment. Additionally, if their child was admitted to the PICU, caregivers can ask questions to help them avoid recurrence upon discharge.