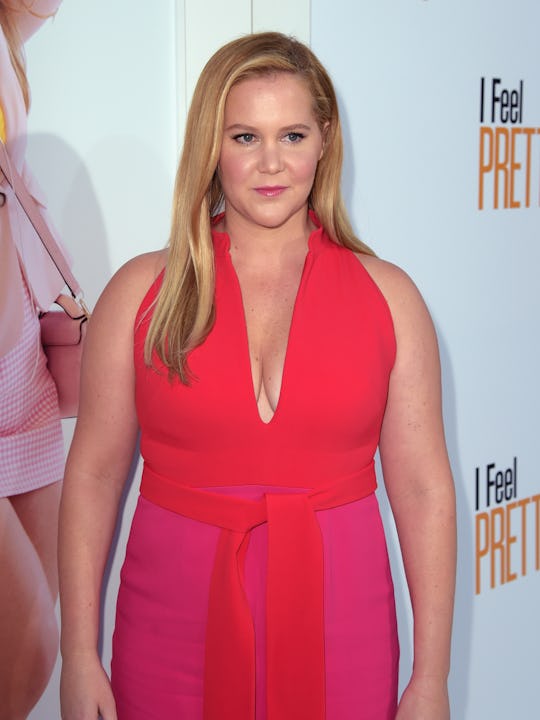 Kevin Winter/Getty Images Entertainment/Getty Images
Amy Schumer Will Be The Kind Of No-Filter Mom Who Makes Playdates A Party
I don't know about you, but when news of Amy Schumer's pregnancy first broke, I was so excited for her. To be completely honest, though, I was also pretty darn pumped for myself. Because soon, I would finally have the opportunity to see her take on this whole pregnancy and motherhood business. And based on her history of brutal honesty and comedic awesomeness, I doubt that she'll disappoint. So let's take a look at 5 reasons pregnant Amy Schumer will be the realest mom, shall we?
As People reported, Schumer revealed that she and her husband, Chris Fischer, were expecting their first child on Oct. 22 — with the help of a friend. Jessica Yellin of News Not Noise made the big reveal via Instagram Stories. "I wanted to share some news from our community, maybe it's noise but it's happy noise," Yellin said to followers in an Instagram video clip. "So I'm not in the business of making voting recommendations, but these are the recommendations of Amy Schumer, one of the most consistent and earliest supporters of News Not Noise. Now read all the way to the bottom, you'll see there's some news down there. Congratulations, Amy." There, at the very bottom of the list, read, "I'm pregnant — Amy Schumer."
Additionally, the funny actress teased the news on her own Instagram by photoshopping her head and Fischer's head onto the bodies of a photo of Prince Harry and Meghan Markle. "About to announce some exciting news on @jessicayellin insta page," Schumer captioned the photo. "Please follow her for up to the minute #newsnotnoise she breaks down what's really going on. She agreed to post a lil noise today for me! Follow her and VOTE!!"
Now that Amy Schumer has a confirmed bun in the oven, I'm convinced she's going to totally kick *ss at motherhood. So without further ado, I give you five reasons Amy Schumer will be the realest mom. (You know, aside from the fact that she's funny AF.) Like...
1. Her Honesty About Pregnancy So Far
Earlier this week, the Duke and Duchess of Sussex were visiting Fiji as part of a royal tour of several countries, as People reported. Keeping up with her hilarious comparison to Meghan Markle's pregnancy, Schumer took to Instagram and updated followers about her own pregnancy. "Today Markle is in Fiji #same," Schumer captioned a photo of herself hovering over a toilet, presumably from morning sickness. "Milf alert," she added at the bottom. LOL. If Schumer is keeping it real during pregnancy, I have a feeling she'll continue to do so after her baby arrives.
2. Her Wine Game Is Already On Point
Based on all of the memes floating around out there, all moms love wine — and they actually need it in order to get through a day with their children. *Eye roll* Mom stereotypes aside, it looks like Schumer already has fondness for wine. As she told People in 2016, "I think [people would be surprised by] the amount I drink. I think I advertise the frequency with which I drink pretty honestly." According to the publication, she typically enjoys two glasses, four to five nights a week (when she isn't pregnant, of course.) "But on those nights sometimes I'll have three," she said. "And that is the most it gets." See? She'll fit right in on those moms' night out dates.
3. She Already "Gets" How Intense Childbirth Can Be
For a special Mother's Day skit that appeared on Saturday Night Live, Schumer played the part of a doting mother who received the gift of breakfast in bed from her son and husband. As she recounts the day her son was born, the skit toggles back and forth between her gentle responses to her son's questions and dramatic flashbacks from the delivery room. "The day you were born, it was amazing," she tells her little boy, followed by a flashback of her screaming while in labor and asking her doctor, "How much bigger can the hole get?!" Other too-real things she screamed during labor included: "Am I pooping?!", "No! No, don't cut my butthole in half!", and "Why is he so ugly?"
Okay, okay. So this wasn't actually happening to Schumer. But it was still good practice? Plus, I have a feeling some of these topics may come up in future Instagram posts. Which leads me to...
4. She's An Open Book When It Comes To Bodily Functions
In August, Schumer posted a shout-out to her husband via Instagram, writing, "Married 6 months today. I love you more every day. sorry my fart woke us up this morning 🙋🏼👩🏾‍🌾." LOL.
During an interview with The Los Angeles Times, she also shared she was the heaviest she'd ever been when she met Fischer, whom she hired as a cook for her family vacation. While on the trip, Schumer had an unpleasant reaction to an antibiotic and ended up getting sick while she was on a walk. "I came back to the house and told everyone I'd had to stop to [defecate] in the woods," she told the publication. "And there he was, cooking. We really got to know each other as people, and then when we became interested in each other, it was like, 'Cool, you've seen me at my physical worst.'"
Based on her nonchalant poop and fart references, I have a feeling she's going to be totally fine with addressing the various messes that come with caring for a baby.
5. She Not Afraid To Acknowledge Her Mistakes
During an April interview with Time, Schumer opened up about the 2016 tribute she made to Beyoncé's song, "Formation." (Which was actually sanctioned by Beyoncé herself and released on Jay-Z's streaming platform, Tidal.) Still, the video was widely criticized as a "white feminist's tone-deaf response to an anthem of black female pride," according to the publication. "I knew what my intention was, but the intention didn't really matter, and it upset people," Schumer told Time. "I've learned a lot since then. I don't want to hurt anybody… I really am a chick from Long Island who's just learning along with everyone. So whatever sh*t comes out of my mouth and I f*ck up all the time — just know that I'm trying my best."
As seasoned parents already know, making mistakes and learning from them is all part of the parenthood journey. And I'm pretty sure Schumer won't hesitate to call attention to her rookie parenting mistakes — and give her fans a good laugh in the process.
There you have it, folks! Basically, Amy Schumer is going to be one of the realest of real celeb-moms out there. (Right up there with Chrissy Teigen, Cardi B., and Kristen Bell, in my opinion.) And I can't wait to continue my own motherhood journey with her brutal honesty giving me a good laugh — and reminding me that we're all just trying to do our best in this crazy, amazing role.