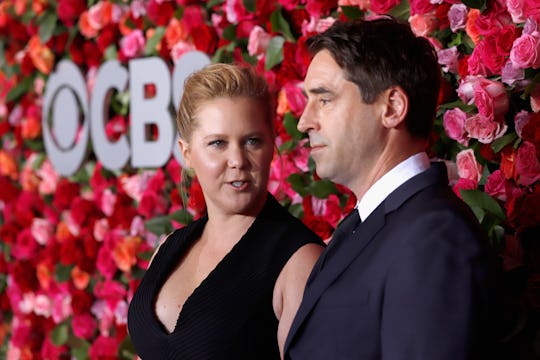 Jemal Countess/Getty Images Entertainment/Getty Images
Amy Schumer Debuted Her Baby Bump In The Most "Precious" Way
I really love it when people I admire get pregnant. I'm not really sure why, especially when I don't happen to know that person in the slightest. Still, when a celebrity I genuinely like decides to procreate it really warms the cockles of my heart. So obviously I was pretty pumped to find out that actress and comedian Amy Schumer was expecting her first child with chef husband Chris Fischer... and weirdly even more excited when Schumer debuted her baby bump in a totally Amy Schumer way: with a nod and a wink to those of us she knows will probably be making a thing out of it. (I should probably feel more ashamed than I do.)
The I Feel Pretty actress announced that she and Fischer, who were married in a private ceremony eight months ago, were expecting via a political message on Monday. As CNN reported, she took to CNN journalist Jessica Yellin's Instagram account to share her picks for the upcoming midterm elections, and made a super casual announcement at the same time: "I'm pregnant — Amy Schumer." The Snatched actress already teased the announcement on her own Instagram page with a hilarious nod to another fairly well known pregnancy that was recently shared: Meghan Markle and Prince Harry.
She switched out a picture of the Duke and Duchess of Sussex with head shots of herself and Fischer, thusly making a typically topical reference to the new royal pregnancy everyone is rabidly excited about. Not that Schumer is competitive or anything... as she said in a statement to The Los Angeles Times:
Chris and I are thrilled and almost positive he's the father. I look forward to competing with Markle every step of the way.
That's what everyone who loves Amy Schumer totally appreciates. She does everything with a sly little wink, knowing what people might be thinking or saying before they even get a chance to say it themselves. And her little baby bump reveal was just as true to form: On Friday, Schumer shared a picture of herself cradling her baby bump with the caption, "My precious," as per People. A la Golem from Lord of the Rings, obviously.
This baby bump pic dispels any rumor (which she started herself, by the way), that Schumer might have already given birth. On Tuesday Schumer shared a snap of herself cuddling a baby on Instagram Stories, as People reported, and again referenced Markle when she wrote, "Already had the baby. Took me less than 4 months. Let's see Megan do that shit."
As Schumer's pregnancy continues, you just know she's going to treat us to some real humdingers. Because what's funnier than swollen ankles, morning sickness, sore nipples, and a crippling fear that it will all go wrong and you'll somehow become the world's worst mother? That's all comedy gold right there, and Schumer will definitely want to be mining for some good material along the way.
And let's face it; no matter what she says we're all going to be here for it.