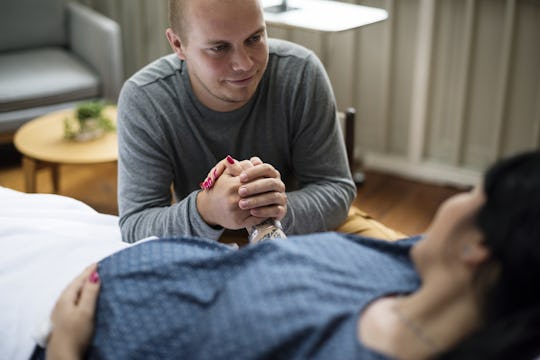 Rawpixel.com/Fotolia
5 Red Flags Your Partner Won't Be Supportive During Childbirth
Childbirth is a vulnerable and often painful time, which is why it's important to have a loving, support person by your side throughout the entire process. And, in my experience, if that person is your partner they can make or break your ability to "enjoy" childbirth. For better or worse, though, there are more than a few red flags your partner won't be supportive during childbirth, according to an OB-GYN.
In 2008, leading obstetrician Michel Odent argued that men should stay out of the delivery room via The Daily Mail. According to Ordent, the presence of a father can prolong labor and for a variety of reasons, ranging from their own adrenaline, depression, or their desire to avoid witnessing the birth itself and, as a result, creating a distance between themselves and their partner. Agree or disagree with his polarizing stance, Odent did highlight some potential ways a partner could be detrimental during labor and delivery.
While my partner was supportive during my pregnancies, childbirth highlighted where he drew the line. In the beginning he was calm, attentive, and excited, but during active labor he was distracted and, more than once, I had to call out for him to pay attention to what was going on. He didn't hesitate to support me once I made it known that I needed it, but I wish he'd have been more supportive without me having to ask. After all, I was a little busy.
Sometimes I wonder if my delivery would've been less traumatic if my partner would've been more attentive and emotionally available. So if you're preparing to give birth, be on the lookout for the following red flags that your partner will drop the ball during game time. And remember: you deserve to be surrounded by the most supportive people possible... no matter what.