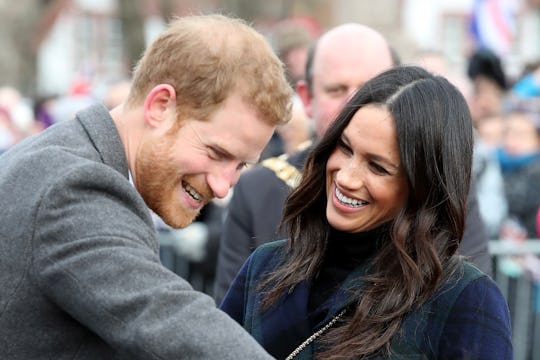 Chris Jackson/Getty Images Entertainment/Getty Images
5 Signs Prince Harry Will Be An *Amazing* Dad One Day
With Prince Harry and Meghan Markle's wedding just three months away, fans of the royal couple undoubtedly already have royal babies on the brain. And hey, you can't blame them — many royal couples have children within their first few years of marriage, since protecting the line of succession is so important. And c'mon... people just can't get enough of Prince George and Princess Charlotte. So, this seems like the perfect time to explore the reasons why exactly Prince Harry will probably be a great dad.
Not to mention, Prince Harry and Markle already seem pretty keen to start a family. During their first joint interview as an engaged couple this past November, the interviewer asked them if they had any current plans to have kids. "Not currently, no," Prince Harry replied, jokingly, according to ELLE. Markle chuckled, and then Prince Harry clarified that they did have plans to start a family somewhere down the line. "Of course. You know, one step at a time. Hopefully we'll start a family in the near future," he added. Markle smiled and nodded her head, implying that she felt the same way. (You'd hope they talked about this in private and were on the same page before broadcasting it to the world, right?!)
So because a royal baby seems to be on the horizon for the couple, now might be a good time to think about why Prince Harry would make a great father. Here are five reasons.
1. He Had A Relatively Normal Upbringing, Despite Being A Royal
Prince Harry, 33, was born as Prince Henry Charles Albert David of Wales on Sept. 15, 1984. As a child, Prince Harry was "very artistic and sporty," according to his mother, Princess Diana, and as noted on biography.com. He was also interested in horseback riding and hunting. His parents tried to give their kids as normal a childhood as they could, taking them to amusement parks and other childhood hotspots.
Considering Prince Harry's activity-filled, as-normal-as-could-be upbringing, it's likely that he will try to give his children a similar experience. Not to mention, Meghan Markle grew up far less famous than Prince Harry, so she'd probably be on board with making their children feel as un-royal and down-to-earth as possible, too.
2. Dealing With His Mother's Death May Have Given Him An Appreciation For The Parent-Child Relationship
Prince Harry was only 12 when his mother passed away. Princess Diana's death was hard on Prince Harry, according to Christopher Andersen's Diana's Boys and as per biography.com. Following her death, Prince Harry reportedly had nightmares. He later fell behind in his studies, and wound up repeating a year in high school. Last year, he opened up about how difficult a time he had managing his grief after his mother died in an interview with The Telegraph. He always speaks of his mother fondly, and it's clear he still deeply cherishes the 12 years he got to spend with her.
Because of all this, it's safe to say Prince Harry will make sure to savor the time he has with his future children, and he won't take any moments for granted.
3. He's Wanted To Be A Father For A While
In a 2012 interview with Katie Couric, Prince Harry opened up about his desire to have children. "I've longed for kids since I was very, very young. And so I'm just— I'm waiting to find the right person, someone who's willing to take on the job," Prince Harry said at the time, according to The Daily Express.
I know he's taken now, but... *SWOON*.
4. He's Already A Great Uncle...
Prince Harry has expressed great love for his nephew, Prince George, and his niece, Princess Charlotte — and he's also made it clear that he doesn't mind that they've cut ahead of him in the line of succession. "The reason I am now fifth is because of my nephew and niece and I could never wish them away," he said in an interview with the Daily Mail last year. "They are the most amazing things ever."
5. ...As Well As A Godfather
Not only has Prince Harry gotten some experience with kids by caring for his niece and nephew, but he's also a godfather. In an interview on the Mad World podcast for The Telegraph, he revealed that he is the godfather to several of his friends' kids. He also added that he hopes he's a good godparent, according to Marie Claire.
Between his niece, nephew, the baby Prince William and Princess Kate have on the way, and all of his godchildren, it sounds like Prince Harry will have plenty of opportunities to hone his diaper-changing skills before becoming a father.
Check out Romper's new video series, Bearing The Motherload, where disagreeing parents from different sides of an issue sit down with a mediator and talk about how to support (and not judge) each other's parenting perspectives. New episodes air Mondays on Facebook.