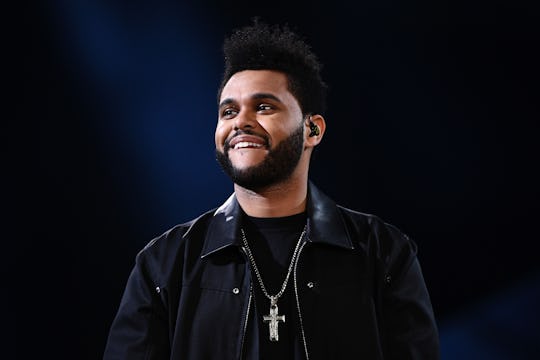 MARTIN BUREAU/AFP/Getty Images
5 The Weeknd Halloween Costumes For Babies That Give Off Total 'Starboy' Vibes
It's an established fact that Abel Tesfaye, aka The Weeknd, is a very talented man. The producer and R&B singer has won two Grammys, simultaneously held all three top spots on the Billboard Hot R&B charts, and was featured on the cover of Forbes for turning his 3.2 billion song streams in $92 million. And he's only been on the music scene since 2010. Aside from his musical genius, The Weeknd has quickly become a style icon, making him perfect inspiration for a Halloween costume — better yet, inspiration for your baby's Halloween costume.
Some of his best looks include his show-stopping rhinestone clad tuxedo and head to toe denim, but on a typical day the Canadian has a very specific uniform. His go-to looks are nothing too flashy, usually just black jeans, a t-shirt, a boxy jacket, and some variety of sneaker. But it's that simplicity and edginess that makes The Weeknd so standout in the menswear world.
Every one of The Weeknd's looks are impressionable, but I'd recommend nabbing inspo from his leather-filled clothing line, XO, or one of his suave nights on the red carpet with his girlfriend Selena Gomez for maximum punch. Dress your little guy in one of these five The Weeknd baby Halloween costumes, and enjoy the admiration he's sure to receive. You've "Earned It."