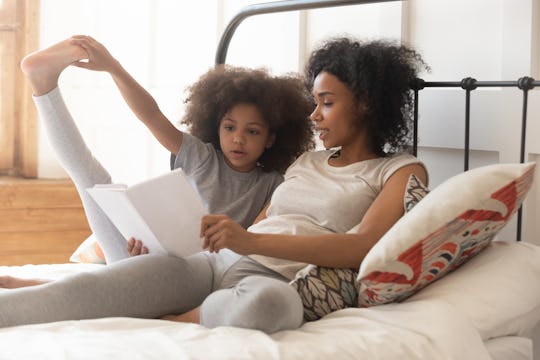 Shutterstock
These Are 5 Things You Really Shouldn't Wait To Talk To Your Kids About
Sometimes parenting feels like a never-ending game of "Am I doing this right?" Oftentimes in our efforts to protect kids from the "grown-up stuff" we may think that delaying certain conversations is for the best. But there are actually things you shouldn't wait to talk to your kids about even if you think they may be too young, or you don't feel fully prepared to "go there" just yet.
In speaking with parenting and youth development expert, Deborah Gilboa, M.D.,(commonly known as Dr. G.), she notes that the best way to gauge whether your child is ready to have conversations about tough topics is, quite simply, if they ask. "If they ask, they're ready to know and you can provide them with a developmentally appropriate answer." And, she notes, "none of these conversations are one-offs." You'll get lots of chances to discuss these topics with your kids, so don't worry too much about not doing a great job the first time around. The important thing is that you are the one they're coming to when they have questions. And the only way to ensure that is by opening up the lines of communication early.
Dr. Nina Tepper, a Los Angeles-based child and adolescent psychologist, notes the importance of this particularly for children who have access to the internet. In an email to Romper, she states: "Kids who have access to the internet will Google whatever you are unwilling to explain. If you don't answer their questions with honest, reassuring information, they will get it from unsafe, unreliable sources."
So what should we should be discussing with our kiddos? The five topics below are some of the most common ones parents feel they should delay addressing, but actually, as these experts note, it's important for them to be discussed early on (depending on your individual kid's sensitivities and development, of course).