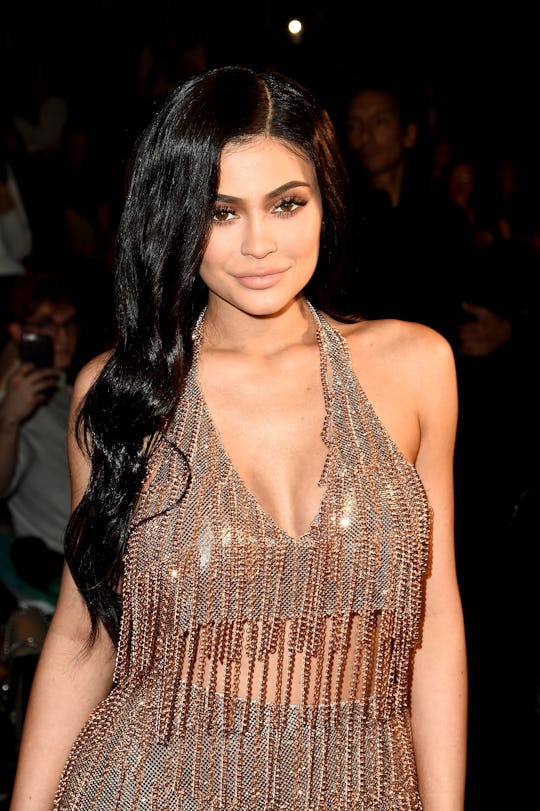 Nicholas Hunt/Getty Images Entertainment/Getty Images
5 Times Kylie Jenner Shut Down Pregnancy Rumors
Everyone is always trying to keep up with the Kardashians, obviously, but the youngest member of the world's favorite reality TV family earned herself a super-intense limelight of her very own thanks to reports that she's expecting her first child. In September, unnamed sources started spilling details about Kylie Jenner's rumored pregnancy and the rumored baby-to-be she will share with boyfriend Travis Scott if the rumors are true. As fans frantically analyze every social media post for subliminal messages and every paparazzi pic for signs of a bump, the 20-year-old reality star is keeping impressively aloof. In fact, there have been times that Kylie Jenner has actually shut down pregnancy rumors, because as much as her fans love her, they're never, ever, ever, ever chill.
Jenner has actually been denying pregnancy rumors in her own way since way before the anonymous sources "confirmed" that this time was the real deal. And even though the young beauty mogul has definitively nixed the baby speculation in the past couple of years, this time she's taken a more ambiguous approach that's driving fans crazy. There's the influx of throwback photos on Instagram, which fans think is a ploy to keep her bump off the interwebs; the blue vs. pink cellphone case situation that had followers convinced she has a boy on the way; and the time she literally had some (cinnamon) buns in the oven on Snapchat.
So, in anticipation of whatever's going to happen next, let's take a look back at the times Jenner has hinted that she's definitely not pregnant — and those more recent instances where she kept us all guessing.
A Very Long Pregnancy... Rumor
Although the Kylie Jenner pregnancy rumors have intensified like crazy (and seemed to gain some legitimacy) recently, the concept that she could be pregnant isn't exactly new. And after hearing that gossip for longer than it would have taken her to go through a full pregnancy and give birth, the then-teenager tweeted a nonchalant rebuttal back in 2015. "They've been saying I'm pregnant for one year now... One year," Jenner wrote. "Let's get it together lol."
And that was that... for the time being, at least.
"Slacking" In The Baby Department
The pregnancy speculation didn't exactly die down, though. In response to persistent unfounded gossip that she was expecting a baby with then-boyfriend Tyga, Jenner decided in February 2016 to set the record straight... again. The couple sat down to do a livestream in which Tyga straight-up asked Jenner, "Are you pregnant?" He added that they needed to address the rumors about her "being pregnant and being married and all this crazy stuff," according to Cosmopolitan. And her answer was unequivocal, with just the right amount of sass:
I'm not pregnant and I'm not married. Cause you're slacking... I'm just kidding.
"How Do People Know Before Me?"
A deleted scene from a June 2016 episode of Keeping Up with the Kardashians again showcased Jenner's bafflement with pregnancy rumors. In the scene, she sits on a couch with her sisters Kim and Kourtney Kardashian, and she's engrossed in her phone. "Why is everyone saying that I'm pregnant?" Jenner asks, according to People magazine. And when Kourtney nonchalantly asks who the dad is, Jenner responds, "I don't know. How do people know before me?"
Photoshop Goes Too Far
Paparazzi and gossip websites have been obsessed with catching a shot of pregnant celebrities' bumps pretty much since the beginning of time, and Jenner's (hypothetical) one is no exception. Over the weekend The Daily Mail published a couple of photos of her, claiming to offer a glimpse of her pregnant belly. And Jenner herself was quick to accuse the site of digitally altering at least one of the snaps in a tweet — her direct first public statement about the pregnancy rumors. The Daily Mail updated its post to deny having changed the photos.
BUT TAMPONS!!!!
Also over the weekend, Jenner posted a photo of the junk food bounty she purchased. Seems inconsequential, right? But nestled underneath a bag of Cheetos on the checkout counter is a little box of Playtex, which has some fans questioning everything. Why oh why would a pregnant Kylie need tampons? they lament.
My theory: She bought them knowing that fans would notice and media outlets would run stories about what the heck this could mean. Well played, Kylie. Well played.
Watch Romper's new video series, Romper's Doula Diaries:
Check out the entire Romper's Doula Diaries series and other videos on Facebook and the Bustle app across Apple TV, Roku, and Amazon Fire TV.