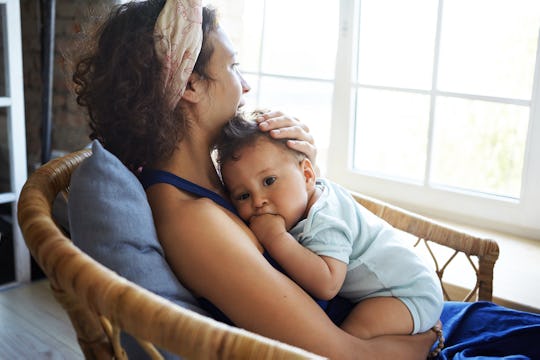 shurkin_son/Fotolia
Mars Retrograde Is Here & Here's What It Means For You, Mom
When you're a mom, so much of your life is influenced by factors that are out of control (the stomach bug going around at school, your kid's mood at any given time, the babysitter canceling at the last minute). Right now, one of the elements that might be messing with your life is Mars retrograde — which, just like the infamous Mercury retrograde, is known for wreaking havoc on just about everything. So what exactly does Mars retrograde mean for moms?
Chances are you're already feeling the effects, since this retrograde began on June 26. Mars goes direct again on August 27, but the phase won't be officially over until October 8. After that, you won't have to worry about Mars messing with you again for awhile, at least; unlike Mercury, Mars only goes retrograde about once every two years, as astrologer Helene Cierzo of Heart House Astrology told Romper. A retrograde period, in case you're not clear, is when a planet appears to be moving backward in the sky. And though this is technically an optical illusion, it's common to experience regression and challenges in the areas of life the retrograde planet represents during that time (love, money, health).
"Mars represents our efforts, our initiatives, the way we defend our desires and passions," Cierzo explains. So when Mars goes retrograde, you may find that even your best laid plans seem to fall apart, and frustrations might be running especially high.
"Use the summer months to rethink, to strategize, or engage in some sort of research," advises Cierzo.
"Overall, wait until Mars moves direct to initiate new action. For now, gather information, re-evaluate your strategy, take a pause and let things flow."
Perhaps not how you planned on spending the summer, but sound advice indeed! Here's how Mars retrograde will make its presence known in various areas of your life.