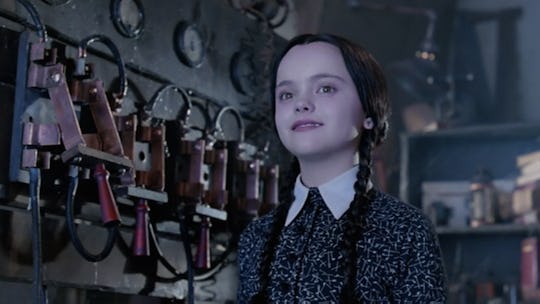 Paramount Pictures
These Addams Family Halloween Costumes Are Mysterious, Spooky, Kooky & Ooky
Coming up with a good concept for your family's Halloween costumes can be a real trick. Except this year, because Addams Family Halloween costumes are going to be huge, so your decision has basically been made for you: There's a character for every member of your family, after all.
When it comes to getting kids and parents on the same page, few things have a bigger impact than a film or television show. With an animated movie version of The Addams Family hitting theaters this October, you want to make sure your costumes are on point.
Now, you can absolutely go to a Halloween store and grab everything you need from there. However, there are a ton of great options online for those of us who don't love the strobe lighting and temporary nature of Halloween shops. Places from Etsy to Wish have fun options for all of the Addams Family characters; for others, like Pugsley, Gomez, and Wednesday, you can likely source much of what you'll need from regular stores. Morticia, Cousin It, and Lurch are going to be more of a challenge, so it's best to start early.
It would also be a good idea to check out some YouTube tutorials for the character's faces. The makeup can be intense, and the majority of us are not prepared. Thankfully, there are people who break it down like paint by number.
Also thankfully, these get-ups will get you started.