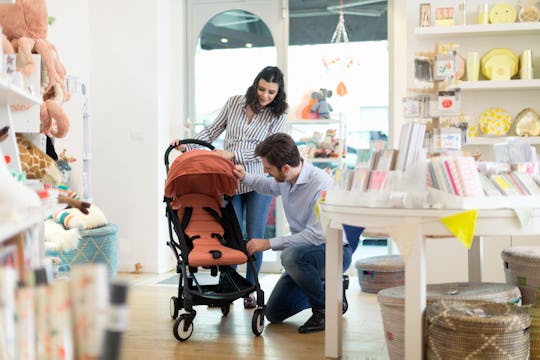 Sofie Delauw/Cultura/Getty Images
The Best Black Friday Stroller Deals Include $500 Off The Cybex Priam
A stroller is one of the most expensive things you'll buy as a new parent, and with good reason: You want to make sure that the stroller you choose will keep your child safe and withstand your travels. Still, you also want something budget-friendly. That's where this year's Black Friday stroller deals come in. With up to 50 percent off, you can save big on a major investment you'll have to make eventually.
Maybe you can finally get the one you've been eyeing for quite some time, whether it has chrome or those all-terrain wheels you've always wanted or the ability to fold up like a suitcase for optimal portability.
The idea of a traditional, sturdier stroller might offer comfort for some parents, while others might want a lighter, easy-to-collapse stroller that won't disrupt their usual jog. Whatever type of stroller you're hoping to find, the best strollers on sale for this Black Friday mean big savings and way more convenience when traveling with your child. No matter your lifestyle, you'll find a stroller that meets the needs of you and your family. And the best part is, you'll know ahead of time what you're looking for and be ready to order once Black Friday comes.