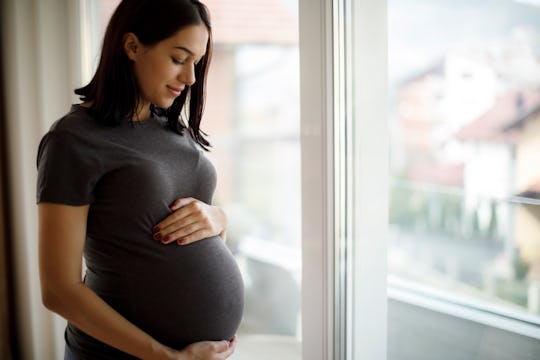 damircudic/E+/Getty Images
Here's Why These 6 Body Parts Are More Sensitive During Pregnancy
Oftentimes, women can sense they're pregnant before they even get a positive test, based simply on how their body feels. That's partly because there are several body parts that are more sensitive during pregnancy, some of which can be noticeable in even the earliest days.
While it's easy to chalk up every strange new feeling or behavior to hormones, child birth expert Rena Koerner, CLD, tells Romper that when it comes to body sensitivity, oftentimes it has more to do with blood flow. Hormones definitely play a factor, but, she says, "the volume of blood increases by 50%" during pregnancy, which results in a lot of sensitivity, swelling, or even painful sensations.
Sensitive breasts, however, can usually be blamed on hormones, as Megan Davidson, Ph.D., tells Romper. Not only are they one of the first body parts to become sensitive, she explains, but the sensitivity is a "good sign" if you're planning on breastfeeding because it indicates "that your milk ducts are growing" and preparing themselves to feed the baby when it's time.
Beyond those early days, as pregnancy continues, the body can start to feel all sorts of sensitive or painful sensations in a variety of different areas. There's no hard and fast rule on what you can experience, and Koerner says "each pregnant person will experience symptoms differently." So, while your best friend may suddenly have very sensitive skin, you may experience a change in something else, like your gums. That said, even though it's a case-by-case situation, there are some sensitivities that seem to affect more women than not.