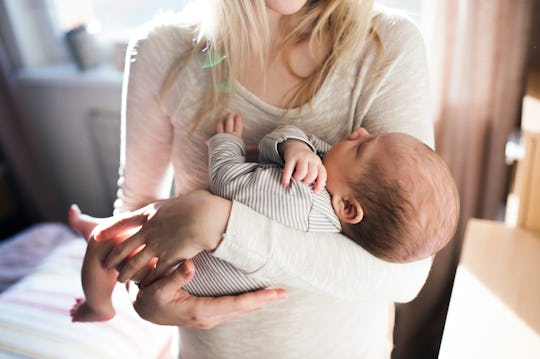 halfpoint/Shutterstock
If You Want A Holistic Approach To Get Your Baby To Sleep, Here Are 6 Things To Try
When I was pregnant, some of the most repeated advice that I received was to sleep when my baby slept. So when my son was up night after night and refused to take naps, I wondered how I was supposed to get any rest if my baby never slept for more than an hour or two at a time. I tried just about anything I could find to try to get my son to sleep more. If you've ever had a baby who wouldn't sleep, you probably tried several holistic ways to get your baby to sleep, just like I did.
Luckily, my wise aunt suggested getting my son on a sleep schedule and implementing a regular bedtime routine to help him drift off soundly and stay asleep. A gentle massage with lavender scented lotion before bedtime and a white noise machine in his room finally did the trick.
According to Dana Stone, an infant and toddler sleep consultant with Rest Assured Consulting, parents will try just about anything to get their babies to sleep. "As a pediatric sleep consultant, I work with families daily that are feeling the effects of sleep deprivation. There are so many lotions and potions and gadgets that claim to improve sleep. Simply put, parents are so tired, but they still want safe and effective strategies for their most precious gifts. They don't want to sacrifice their child's health or mental well being for a good nights sleep," she tells Romper.
This explains why parents might try going the holistic route when trying to find ways to get their babies to sleep. "Today more than ever parents are turning to a more holistic approach to wellness. And when we look at our total health, sleep is the absolute foundation," Stone says.