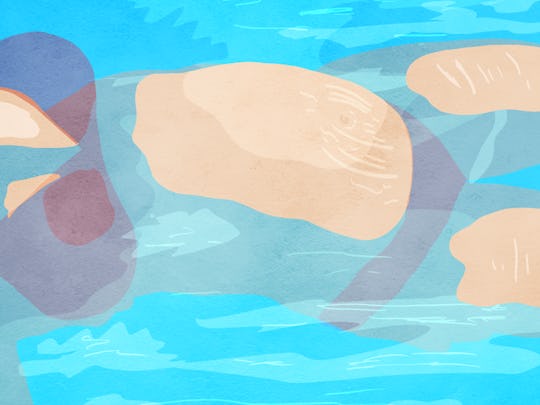 Claire Joines/Romper
6 Reasons Struggling With Your Postpartum Body Doesn't Make You A Bad Feminist
The weeks and months (and possibly years, if you're me) following the birth of your baby can be challenging and confusing when it comes to body image. We're given such mixed messages, aren't we? Be proud of your body after having a baby, and what it's created! Love yourself and all your tiger stripes! But also? Look at all the celebrities who look even better than they did before getting pregnant, a mere six weeks postpartum! It's enough to drive a new mom crazy.
About three months after having my second child, I was out somewhere with an acquaintance who didn't have kids of her own. She complimented me on how flat my stomach was already, and I felt like I wanted to throttle her. I'm sure she meant nothing negative by it, and was only trying to find a way to relate to me on a subject that she was clearly inexperienced with, but it got my feminist hackles up. Why should I care about my stomach shrinking back to its original size, and why do other people feel the need to comment on it?
Of course, as I fell into postpartum depression and began to do some serious emotional eating, my self-esteem and body image ended up taking center stage after all. I briefly fit into my pre-pregnancy clothes, then gaining a lot of my pregnancy weight back and hating myself for it. And eating more to cope with that self-loathing. It was...a whole thing. And on top of all the other unpleasant feelings I was straddling around that time, there came the feminist self-doubt: As a feminist, am I not supposed to be way beyond getting this hung up on how my body looks?
The thing is, even when we want to love and appreciate our bodies, after having a baby, it can be really hard to shift our way of thinking. But that doesn't mean we aren't feminists. And it doesn't mean we're not going to teach our children to love and respect their own bodies.