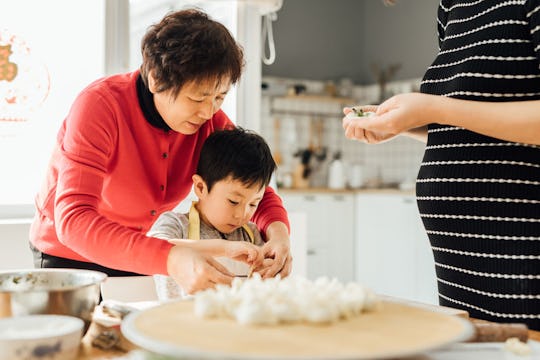 MaaHoo Studio/Stocksy
These 6 Signs Mean Your Kid Is Ready To Use A Knife To Cut Their Food, Yikes
It started off with your baby sticking a spoon in their mouth and drooling all over it. Then, that baby transformed into a toddler and started spearing soft cheese with a fork. And just when you thought you'd mastered mealtime mayhem, your elementary-aged kid uttered the dreaded words: "I want to do it!" and insisted on cutting their food — all by themselves. For sure, it's a conundrum. You don't want to spend the rest of your days chopping up chicken, but you don't want your kid to go slicing and dicing their finger off, either. It can be hard to know the signs your kid is ready to use a knife to cut their food so that they'll be safe in the kitchen.
All things considered, when your child is ready to be independent at the table, it's a rite of passage. You just don't want said rite to head you right to the emergency room, though, with a severed tendon… or worse.
"It's important for your child to understand that a knife is not a toy," says Leigh Ann Chatagnier, a chef and food blogger. While you want to stress caution and care while using a knife, you don't want to scare your child so much that they wind up impaling themselves, either. That's why getting kids into the kitchen sooner rather than later can help them develop not only a respect for kitchen safety but also a love for cooking. Look for these cues the next time your kiddo wants to use a knife to see if they're ready or not.