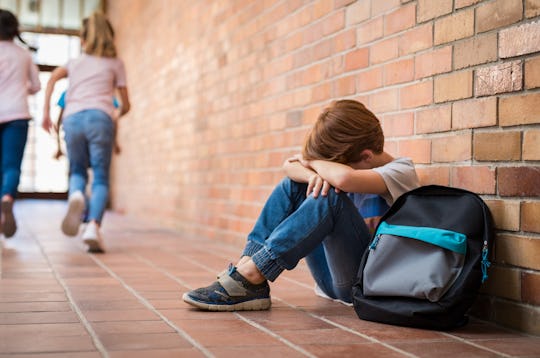 Rido/Fotolia
6 Things An Elementary School Counselor Wants You To Know About Bullying
One of the hardest parts of sending my kids to school is trusting that they will be able to handle challenging situations — like bullying — when I'm not around. My kids have only encountered a few bullies so far, though, and when they have we've been able to work with the school to make a plan. As a result, I've learned that there are things school counselors want parents to know about bullying. When everyone is armed with knowledge, we can all work together to make sure our schools are safe for everyone.
Romper corresponded by email with Loren Santos, a school counselor at Franklin Elementary School in Baltimore County, Maryland, and Lisa DiBernardo M.Ed., LPC, NCC, who spent 10 years as an elementary school counselor in New Jersey and is now the Director of Education for TEAMology — a school-wide anti-bullying and leadership program. Both Santos and DiBernardo encourage parents to start teaching their children things like kindness and conflict-resolution at home by modeling and reinforcing positive behavior, empathy, and inclusion.
The hard part, of course, is letting go and allowing your children to practice those lessons at school and when you're not around. As someone who was bullied at school, this step is particularly difficult for me. When I heard that my daughter was being bullied I wanted to run to the school immediately and get involved. Turns out, that's not the best approach. So for my daughter's sake, as well as my own, I stayed calm long enough to speak with someone at her school and figure out what was really going on.
Stepping back and trusting that our kids can handle interpersonal conflict is difficult. Knowing when we should step in and when we should back off is just as hard. The best we can do is educate ourselves about what to do, and what not to do, for our kids. So with that in mind, here's what two school counselors want parents to know about bullying: