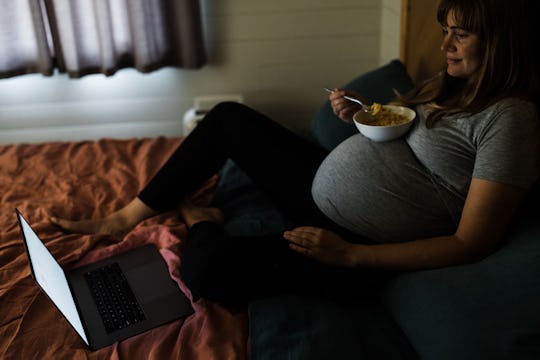 Samantha Gehrmann/Stocksy
Is Your Baby's Chill Factor Determined During Pregnancy? Maybe (Or Maybe Not)
Thanks to modern medicine, expectant moms can find out a lot about their child long before the due date arrives: the gender, size, features, and certain potential health issues. But the things a parent really wants to know — will my child be smart? kind? athletic? — seem destined to remain a mystery until years later. Or are they? Research is increasingly finding that a child's personality forms in the womb, and that there are certain factors that happen during pregnancy that can determine your child's moods, intelligence, and more.
On the other hand, there are also a lot of bogus theories out there, too. Across the centuries, pregnant women have been told all kinds of stories about how to determine their baby's gender, what foods to avoid (strawberries were once thought to cause red birthmarks, according to Care.com), and natural phenomena they should fear (it was said that going outside during a solar eclipse would give the unborn child facial defects, reported USA Today). And forget about rubbing your bump during those nine months, even to feel the kicks. Brittanica.com explained that an old wives' tale from China held that excessive belly rubbing would make the child spoiled. (If that were really the case, then Duchess Meghan's baby would be primed to be more spoiled than milk left in a closed car in July.)
We've sorted through some of the myths and facts about pregnancy phenomena and their relation to a child's personality. Some you may have suspected; others might just surprise you.