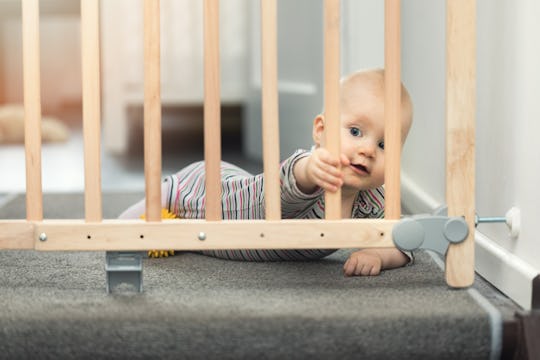 Fotolia
6 Totally Shocking Things Your Parents Will Insist Are Safe For Your Baby
Every generation has its unique way of raising children. For example, my parents think most of the safety precautions I take for and around my children are silly. The "you turned out just fine" argument is a staple in their household. Sure, sometimes it's tedious to keep up with every new safety standard and trend. It seems as through there's a new safety guideline released every day and that can be frustrating, not to mention nerve-wracking, for new parents. That doesn't mean the shocking things my parents insist are safe for my baby are suggestions I take seriously, though. To even negotiate them seems ludicrous to even the most chill parent (in my opinion, at least).
As soon as my daughter was born, everything in the world suddenly became a threat, a hazard, or a danger. I was scared of every driver on the road when we took her home from the hospital. When we got home, my mind started racing: our glass coffee table was a tragedy waiting to happen, a bottle full of ibuprofen just sat there on the table waiting to be inhaled by a baby, loose change in a drawer was now a choking hazard. My partner and I had to make a lot of changes, we had to make sure we did everything right in order to keep our baby safe.
My parents, on the other hand, are old-school immigrants. They are the type of people who wave their hands dismissively and say things like, "That's ridiculous, car seats didn't even exist when you were a baby and you're still alive." I'm not blaming them for anything; they grew up in a different time and in a different country. Still, their stubborn insistence on the fact that the things they did when I was a baby are still completely safe to do is slightly mind-boggling. My family is very close and grandparents play an instrumental part in the upbringing of children, but when they swore that the following things were safe for babies, I had to have a long discussion with them about boundaries.