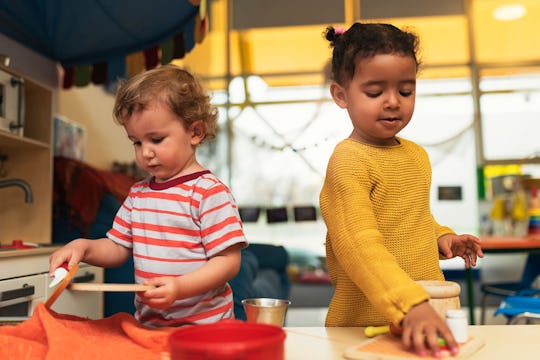 Santi Nunez/Stocksy
6 Ways To Incorporate Culture & Diversity Into Child Care That Are So Important
We live in a multicultural society. There is bounty and beauty in all of the cultures, races, and religions that make up the United States, and we should be celebrating our differences and encouraging our children to do the same. Admittedly, this can prove to be a challenge when you're looking to create a cohesive child care environment. To help on this quest, I've compiled six ways to incorporate culture and diversity into child care while maintaining a shared community of learners that also highlights what is common among all children.
There is a breadth of research on the need for inclusive, dynamic, multicultural learning in early childhood education. In their call for intercultural education, scholars Leslie Ponciano and Ani Shabazian wrote: "As society becomes increasingly multiracial, multilingual, and multicultural, so too grows the need for educators' abilities to support children's development by instilling in them the tools they need to live together respectfully and stand up to prejudice." This begins by evaluating the needs of your child care situation, and determining what the needs and strengths are in the community as a whole, and what isn't currently being addressed. It needs to begin at the ground level, reaching out to encompass not only the students, but also the educators, staff, and families.
Evaluating what the community of students and their families can learn from each other is essential, but it's important to note that it is not the job of minority groups to educate white people about their culture, as The Guardian pointed out. If it is offered, or becomes a part of a collective conversation, then that's fine... but the burden does not lie with minorities alone. I know that in the region where I grew up, child care was fairly segregated. My preschool was 98 percent white, and it still is. I went through most of my education with teachers who didn't understand my culture, and couldn't pronounce my last name. This is still too common throughout the country, but there are ways to mitigate its effects.