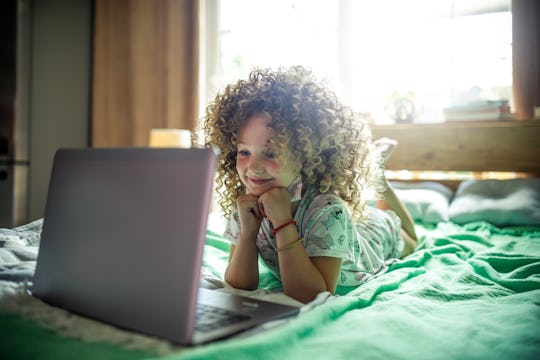 zeljkosantrac/E+/Getty Images
6 Ways To Protect Your Child Online, Because Parents & Their Kids Are Being Attacked
It's totally normal to get excited about tweeting something cute your kid did today, or posting an adorable picture on Instagram. Prominent writer and feminist Jessica Valenti used to — but after online threats were made to her 5-year-old daughter's life, she rushed to make her profile private.
It's easy to forget that the internet isn't private. It's not a place for only you and your friends (even if your privacy settings are super tight, they aren't infallible), and strangers on the internet might have access to more information about your family than you would be comfortable with them having.
Of course, sometimes the internet will come after you and your family even if you share very little about your personal life. If you're a blogger or otherwise well-known on the internet, it can feel like a free-for-all when it comes to attacks — people will always have something negative to say about what you choose to spend your time doing, who you choose to spend time with. Maybe people sling internet hate your way because you posted a picture where you're kissing your child on the lips, or trying to decide whether to let your baby cry it out, or researching the pros and cons of co-sleeping — and they don't agree with your choice and want to publicly vilify you for it. For parents, especially moms, parenting choices always come under fire.
But what happens when it's not you who is the target — but your kids?
That's what happened to New York Times Bestselling author Jessica Valenti yesterday when ongoing online threats she's received over the years for being a noted feminist writer turned to her 5-year-old daughter instead.
Understandably, a stricken and disgusted Valenti is getting off social media, but before she left, she made one powerful plea to law enforcement and social media companies; one that we've heard often in the last few weeks, like when Leslie Jones was the subject of hate-crime level tweets after the opening weekend of Ghostbusters.
Earlier this year, Rachel Roy's 16-year-old daughter, Ava Dash, was mercilessly harassed online after speculation that Roy was the woman being referred to as "Becky with the good hair," in Beyoncé's Lemonade album. It was one thing for Bey fans to flock to Roy's social media with their theories, but once they started attacking her daughter — commenting hateful slurs and even death threats on her Instagram posts — Dash responded with a plea for kindness on her Twitter.
Teens like Dash might be better able to navigate social media, but they are still vulnerable to online bullying and predators. For children who aren't old enough to tweet, like Valenti's daughter, it's up to parents to keep them safe.
How To Keep Your Family Safe Online
Even if you're not a super famous blogger, your behavior on social media and what you choose to share about your family could be making your children vulnerable to these kinds of attacks. (Though, it is not your fault or your child's fault that someone is attacking them.) Here are some practical tips to keep in mind whenever you post, so that you can enjoy the connectivity of social media without putting your family at risk, and information on what you can (and, unfortunately, can't) do if you've been targeted with online harassment.
Understand How The Internet Works
You can't keep your kids safe online unless you, as a parent, understand how the online world works. No, you don't have to be a Twitter superstar or anything, but you should know what social media sites are, what they're for, and who their primary audience is. Tumblr, for example, is a microblogging site that isn't the same kind of social media as say, Facebook. On Tumblr, your teen might be interacting with other users — or they might not be. It's up to them how involved they become in conversations, and most of them are conducted with usernames, not real names.
Of course, that anonymity also makes them vulnerable to trolling — where people get on the internet and send hateful, rude, or even just extremely obnoxious messages to users anonymously. Understanding how each social media network functions will help you understand what your child might be facing when they log on.
It's Never Too Early To Teach Kids What Information Is Safe To Share — And What Isn't
Even toddlers can use iPads and smartphones to play games, so the sooner you can start having conversations with your kids about what information should stay private and what's OK to share, the better online habits they'll build.
Set solid rules about sharing and enforce them — make sure your kids understand that being online is a part of their lives in a way that it wasn't always for you. You know you can't force them not to engage, but maybe set boundaries, for example, they are not allowed to give out any personal information or post pictures without your permission.
That means no sharing their full name, address (even a P.O. box), email address, passwords, or photos where they (or family members and friends) are clearly identifiable unless they've talked to you about it first. Then, if they want to create an online profile, help them build it. It's also a good way to connect with your child and find out what their interests are, who their favorite fictional characters might be, and talk about why they want to be on social media and how they plan to use their profile.
Get Online Conversations Offline, Too
When big news stories break these days, often social media is the first place they do. Horrific acts of violence live-streamed on Facebook deserve more conversation than just an "Omg, did you see –?" As your kids grow up, some of the most defining moments of their young lives will play out in real time on social media. Don't shy away from it — use social media as a tool to engage in meaningful conversations about the world around them.
But also remind them that the real-time pace of the internet means, sometimes, people will provide misinformation. Sometimes they'll do it in error, other times, they'll do it deliberately. Commit to learning — together — how to identify trustworthy sources.
Keep A Low Profile — At Least While Your Kids Are Little
It's understandably tempting to post hundreds of pictures to Facebook when your kids are little and everything they do is a first and it's all ridiculously adorable. You might also have family that lives far away, and social media can be a wonderful way to share moments with your children that they would otherwise miss out on.
Keep in mind that when you post photos to the internet, even on your own profile, they don't ever really disappear. Even if someone couldn't download the picture you posted of your toddler splashing in the pool, they could easily screen cap it and upload it elsewhere without your knowledge.
The same goes for ultrasound pictures — while it's always exciting to share your first sonogram (especially for a gender reveal) those, too, can be used wrongfully by others. Remember when hackers stole Adele's ultrasound photos? Ugh.
If You've Been Threatened, Take Action Immediately — Or At Least Try To
If you are the victim of online harassment or cyberbullying, there's sadly little you can do to address it after the fact. Technically, you can send a tip to the FBI — but it usually only looks into acts that imply "criminal activity" or "terrorist threats" — and what's considered criminal isn't wide enough to encompass the acts of violence committed online. Even if you navigate to the FBI's Internet Crime Complaint Center (IC3) you can really only report crimes that are financial, like someone using a fake email to get money from you.
Research done by the Pew Research Center found that 40 percent of adults who use the internet have experienced harassment online — and who sees the worst of it? Young women. 26 percent of female internet users reported being stalked online.
When this kind of stuff happens online, the victim can go to either criminal or civil court to report it — citing things like defamation of character, emotional distress, and public disclosure of private fact. But this process is extremely time consuming, expensive and emotionally exhausting — and the success relies on the specifics of the case, which can vary wildly given the limitless nature of the internet and the predators who lurk there.
Taking online harassment to court aside, even just getting the social media powers that be to own up and start protecting their users can be a nightmare. After what happened to Ghostbusters' Leslie Jones, Twitter's CEO (after a major call to action from Twitter users) Jack Dorsey spoke out about harassment on the site, Twitter's plans to address it in the future, and the lifetime ban on Milo Yiannopoloulos, who had a long history of instigating online abuse.
Social media leaders and law enforcement definitely have a responsibility in the fight against online harassment, but at the end of the day, it really comes down to the individuals who perpetuate the hateful behavior. So remember: learning how to be a kind, compassionate and thoughtful internet user — and person — really begins at home.