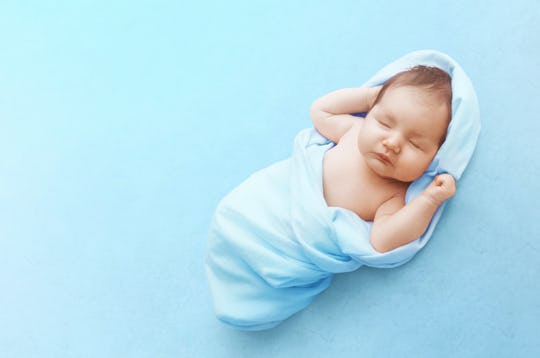 svetlanasmirnova/Fotolia
7 Creepy Things People Said To My Partner After We Announced The Birth Of Our Son
Once you've had a baby, people seem to think they can say whatever they want. Actually, that's true through all stages — from pregnancy to your child's adult years — but it's harder to hear just after you've gone through hell to deliver your baby. There's a lot to take in, good advice and the weird comments to sort through, and a boatload of adjustments to be made. Which is why the creepy things people said to my partner after we announced we had a son were completely unnecessary and for a variety of reasons.
Let's be clear: a lot of comments and questions we fielded were typically directed at my partner, even though I was standing right there, baby boy in my arms. Can someone please explain this phenomenon to me? I did all the work. And, as the exhausted, healing from childbirth, hormonal person in this situation, I'm was not interested in anyone's thoughts that ended up reflecting their sexist or ignorant point-of-view. Truly, a lot of what was said was the epitome of creepiness and, yeah, just not OK.
I get that, after a baby is born, some are desperate to form a camaraderie with the parents, and I'm all for a light-hearted joke for the sake of celebrating our bundle of joy. But, when some of these attempts are made at my expense, our daughter's, my son's, or my relationship with my partner, I have to draw the line. Some things aren't funny and border on the fringe of inappropriate. Here are some things people said to my partner after we had our son, that I'd rather forget.