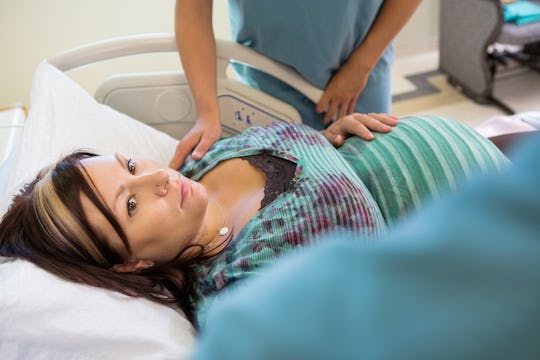 Tyler Olson/Fotolia
7 Doubts You'll Have About Your Marriage When You're Giving Birth
There's something about labor and delivery that brings out the best, and worst, in people. I've given birth twice and, both times, I can honestly say I became a She Beast. Let's just say the pain of pushing a human being out of my body made me a little, um, "edgy." And, if you're like me, there's likely doubts you'll have about your marriage when you're giving birth, because it's a hell of a time to dissect where your relationship is going between pushes, but what the hell else are you going to focus on? Those painful contractions? The stretching of certain body parts? The poop on the delivery table? Yeah, no thank you.
Jokes aside, both my pregnancies were challenging and riddled with complications. Both also ended in induction, so I experienced two three-day labor and deliveries. People, that is not my idea of a good time. And because my husband was by my side, he took the brunt of my pent-up discomfort which, of course, led to more than a few poorly-timed dissections of our relationship. In the midst of never-ending contractions and an insurmountable amount of pain, my brain started to focus on all the questions you ask yourself before you end up marrying a person. You know, questions like: Are we compatible? What are his core values? Will he love me after I have children? Can I trust him to handle an immense amount of responsibility? The only problem with this line of thinking, of course, is that we'd already been married for some time... and I was in the middle of giving birth.
Obviously, bringing babies into the world temporarily wrecked the rational parts of my brain. It is what it is, though. So with that in mind, here's some of the doubts I had about my marriage of multiple years as I delivered our children.