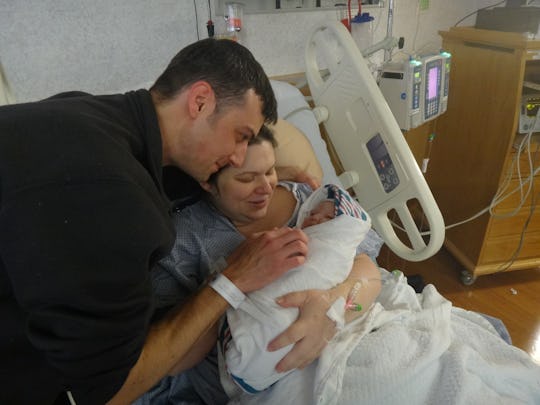 Courtesy of Dina Leygerman
10 Things I Was Afraid To Ask For Immediately After Giving Birth
You live and you learn, they say. Unfortunately, I only learned to ask for what I needed after my first child was born. In my defense, I was young and inexperienced so I didn't know what I needed when I needed it or if I even really needed it at all. I didn't know the window for certain opportunities to demand certain things was short and relatively fleeting. That's why there were so many things I wanted immediately after giving birth, but was just too afraid to ask for. It never occurred to me that there wouldn't be a "later." I didn't understand if I didn't get some sleep in the hospital, there would be minimal sleep to be had outside of the hospital. I didn't know I needed a lot more time with the lactation consultants because one 15-minute visit wasn't nearly enough for a new mom to learn how to breastfeed. I didn't know so I didn't ask, and in the end it's all on me.
After my second child was born, however, I was a pro. I asked for everything I needed and wanted. I did not feel ashamed of my emotions and I did not feel guilty over asking for what I needed. I asked and I received and it was great. I requested multiple visits from the lactation consultants, I minimized the number of visitors, and I asked for actual help. The second time around was much better and, because of my willingness to actually ask, much easier.
I feel confident saying that most women are worried about asking for help, and new mothers are the biggest offenders. They worry about how they are seen. Will someone think they are unfit to be parents? If they ask for help, does that mean they are bad mothers? The answer, of course, is no. You are not a bad mother if you ask for help. In fact, asking for what you need makes you a great parent, a strong parent, a parent who knows it takes a village to raise a child.