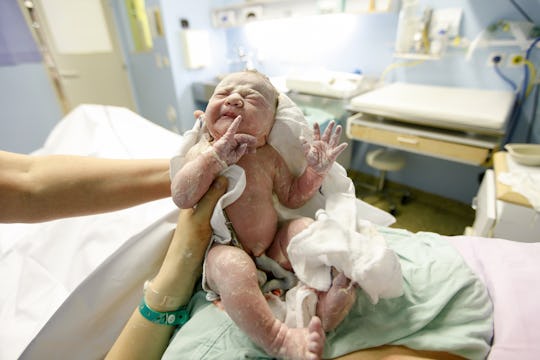 Fotolia
25 New Moms Describe What It Really Feels Like To Meet Your Baby For The First Time
Pop culture has painted a very particular picture of birth and the moment you meet your baby. Exhausted, sweaty, yet somehow glowing and perfectly groomed (even her hair looks artfully bedraggled), the new mother reaches for her infant (usually played by, like, a five month old) and beams pure love. I'm not going to say that's inaccurate (minus the whole looking awesome and delivering a five month old thing), but the fact that this is the only reaction a new mom has. What it really feels like to meet your baby for the first time can, and usually is, a far cry from the cinematic depictions we're used to.
After the birth of my first, I was elated. He cried a righteously pissed off cry (story of his five year life in seven words, by the way) and then was quiet for about a day, just taking it all in. And, very shortly thereafter, in addition to the overwhelming love I felt, another feeling that became almost as powerful crept in. A feeling of "Well, OK. Now what?" A feeling of being legitimately confused by how mundane and not life-changing everything felt. Then again, maybe it was all so life-changing that if I felt it all at once I would have freaked out and my brain was shielding me from too much all at once. I remember it was similar to when I got married, if I'm being honest. The simultaneous swell of, "This is everything" and the bewilderment of, "This is it?!"
I asked other moms to share their first reactions to their babies and, as predicted, there's so much more than we see in a television set's delivery room.