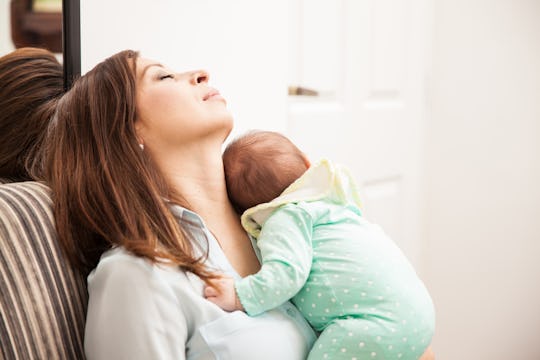 Fotolia
7 Hilarious Hallucinations I Experienced When I Was A New Mom On No Sleep
As many new moms know, one of the worst aspects of #MomLife is the never ending torture of sleep deprivation. When you're pregnant, everyone (or pretty damn close) comes armed with jokes like, "I hope you hate sleep!" and you'll throw them a chuckle, unaware of what it really and truly means to go without sleep while simultaneously caring for a newborn. One of the many things no one warned me about when I was a new mom was the hallucinations I would have from not sleeping. Thankfully, those hallucinations are pretty hilarious, so at least I had a solid form of entertainment, right?
Granted, sleep-deprivation-inspired-hallucinations didn't happen to me right away. In fact, they kind of snuck up on me. During those first few days with my newborn, I was fueled by pure adrenaline. My son was a colicky baby who didn't sleep so much as he screamed and cried for hours with short rest periods in between. Some might call this "sleep," but I think that would be far too generous a term. My husband and I operated in a permanent semi-conscious state for the first few months of our son's life, and it was just about the worst thing we have ever physically experienced.
It seemed like every time we were just on the cusp of falling into that comfortable soft cloud of sweet, nourishing sleep, our baby's soul-crushing cries would fling us out of bed, body first and consciousness later, to answer to his demands. We can laugh about it now, but at the time the toll it took on my body was anything but hilarious. At least I had the following funny hallucinations to get me through my most sleep-deprived state as a new mom. You take your wins when and where you can get them, my friends.