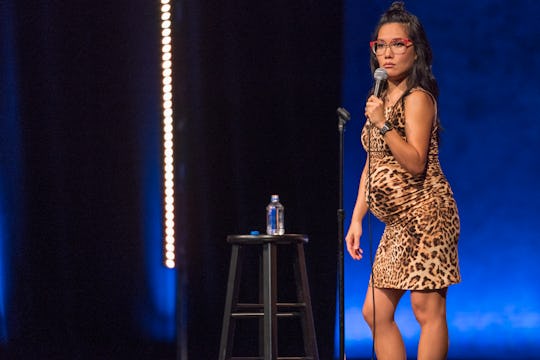 Ken Woroner/Netflix
7 Jokes From Ali Wong's Netflix Special 'Hard Knock Wife' That Every Mom Needs To Hear
If you're familiar with any of comedian Ali Wong's work, then you know that she's not afraid to share things about her personal life while also touching on issues that other moms face on a day-to-day basis. Her most recent stand-up special does the same thing and these jokes from Ali Wong's Netflix special Hard Knock Wife will make you wish she was your best mom friend in real life. The special itself is full of commentary from Wong, a mom to one little girl and — at the time it was filmed — pregnant with her second child.
Because of her experience as a mom, mixed with her naturally infectious attitude, she returned to Netflix after her 2016 special Baby Cobra to talk about the woes of breastfeeding, giving birth, and overall parenting experiences. Like so many of us, Wong is a working mom who has faced the same kinds of judgement, criticisms, and stress that many moms go through all the time. Like I said, she's the mom friend we all need and isn't afraid to tackle the stressful (yet sometimes hilarious) truths about pregnancy and motherhood as a whole.
The entire special is definitely worth a watch, but just in case you need a little incentive to check it out, here are some of the best jokes that every mom can appreciate.