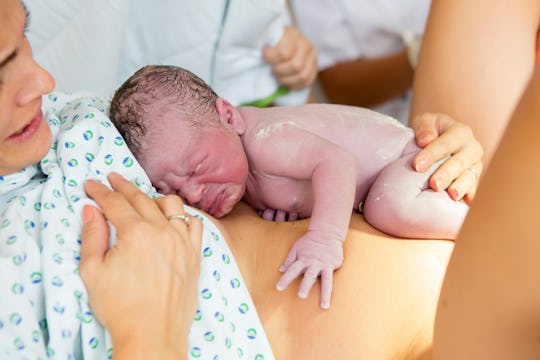 Tomsickova/Fotolia
7 Of The Kindest Things You Can Do To A Woman Who Endured A Traumatic Birth
When most people envision childbirth, the image doesn't typically include an oxygen mask or the removal of a baby in distress. But that's how labor and delivery looked when I brought my son into the world, and it was a defining moment in my life. It was terrifying, it was distressing, and I had no idea how to process the stark difference between what I assumed birth would be like versus what it was actually like. Thankfully, I realized there are things people can do to help a woman who endured a traumatic birth, and they aren't all that difficult.
I was in labor for three days after I was induced and, honestly, most of it was a blur. I do remember more than a few conversations about the possibility of a cesarean, and I remember thinking that nothing felt "easy" or "normal" about the process. I started losing consciousness when I started pushing, and my son ended up stuck in the birth canal. Manual intervention didn't help, and the umbilical cord ended up wrapping around his neck. When I finally pushed him out the cord snapped, and all I can remember is how blue my baby looked, how frantic and quickly the hospital staff moved, and how a general sense of fear was palpable in the room. If I had been completely clear-headed, I would've panicked.
I didn't know my son was OK for a while, and I didn't know I was bleeding out due to the umbilical cord snapping. Once the dust settled, though, and I was finally able to hold him in my arms, the reality of the situation hit me. To be honest, there are things about that day that still give me an immense amount of anxiety. If my son is in distress for any reason — no matter how minor — I'm triggered. The trauma of a potentially-fatal and scarring birth just doesn't really go away.
Thankfully, I had people in my life that went out of their way to make sure my adjustment period postpartum was as easy as possible. So with that in mind, and because I know I'm not alone, here are some things you can do to help a woman who's had a traumatic birth.