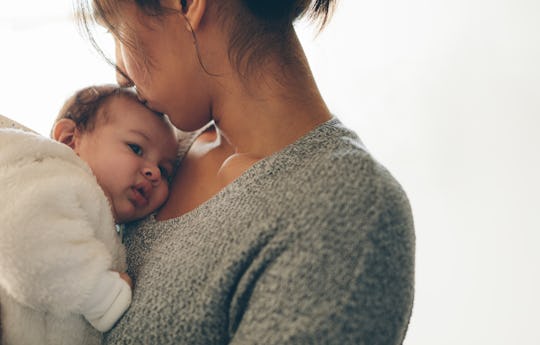 Jacob Lund/Fotolia
7 Parenting Things You Do *Better* Because You Had A Toxic Father
My childhood can't be easily summed up with an elevator pitch. There's no box I can neatly wrap it in, no quip I can use to describe it, and no stereotype I can lean on to make it more understandable for others. One thing I know for sure, though, is that my childhood experiences gave me clear examples of what to do, and more importantly, what not to do. In fact, I think there are parenting things you end up doing better because you had a toxic father, or other toxic guardian growing up, and while a silver lining doesn't make it OK for someone to treat you poorly or abuse you or create a hostile environment, I do find that it's helpful to look at the ways I've made a bad situation into a positive one.
I think most, if not all, parents have the best intentions when they start caring for a tiny, helpless human being. You hold that new baby and look into their eyes and dream of a better, brighter future for them. So I'm sure my father didn't mean to veer off course. I'm sure he had, like me, the best of intentions. But my father's toxicity still affects me to this day and along my journeys through womanhood, marriage, and parenting. Because I was made to feel like the bane of my father's existence, I couldn't wait to turn 18, claim a life for myself, leave my home, and travel as far away from the pain as I could. In other words, I was forced to grow up at an unforgiving rate.
None of this is to say I'm perfect. I make mistakes all the time. I've yelled at my kids and I've handed out punishments that didn't fit the crime. But I've also learned from those mistakes. That, to me, is the most important lesson in parenting — not to repeat the mistakes of our parents, but to be wise enough and humble enough to admit when we have. I'm always learning, evolving, and trying to be a better version of myself today than I was yesterday, and despite the way I grew up. So with that in mind, here are some of the things I think mothers do better because they grew up with a toxic father.