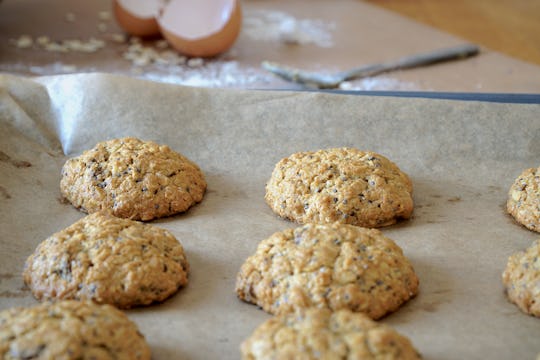 Shutterstock
Another Reason To Eat Dessert: These 7 Pastries Are Good For Breastfeeding
While breastfeeding can be a beautiful, rewarding experience between mama and baby, there's no denying that it's also hard work. Actually, hard work might be an understatement. And while I'm a firm believer that there is no wrong time to "treat yo'self," I personally think treats are particularly deserved when you're breastfeeding. (At least, what's what I tell myself as I peruse the Whole Foods bakery section.) Those sweets taste even better when you know they're benefitting your little one, and these seven pastries are actually good for breastfeeding, so snack away. You're doing it for the baby!
The key to these pastries is their galactagogic properties. A galactagogue, according to Kelly Mom, is "substance that increases milk supply." However, the benefits of these treats can actually be attributed to reasons beyond their specific ingredients. Lactation cookies, for example, are widely used to increase milk supply, but it may simply be the experience of eating the cookies that helps. "Carbs do help increase serotonin, a neurotransmitter that helps us feel happy," Danielle Downs Spradlin, International Board Certified Lactation Consultant, tells Romper. "It's probably not the cookie ingredients but the whole picture of getting extra calories and reduced stress that's helping mom collect more milk." So, while eating galactagogues certainly won't hurt, they may not be the sole cause of an uptick in milk.
If you're stressing about milk supply, it's important that you don't rely solely on dietary changes to build it up. "Some parents won't make enough milk because they are not stimulating the breasts frequently by nursing or expressing," Spradlin tells Romper. "The first step is always the same: feed the baby." Personally? I'm a fan of eating dessert while nursing, though my daughter is often covered in crumbs by the end. And while these pastries aren't guaranteed milk boosters, they can certainly help the cause if they have the proper ingredients... and they typically do. So whether you're worried your supply isn't satisfying your baby or you simply want a dessert with an added benefit, you can't go wrong with one of the items below.