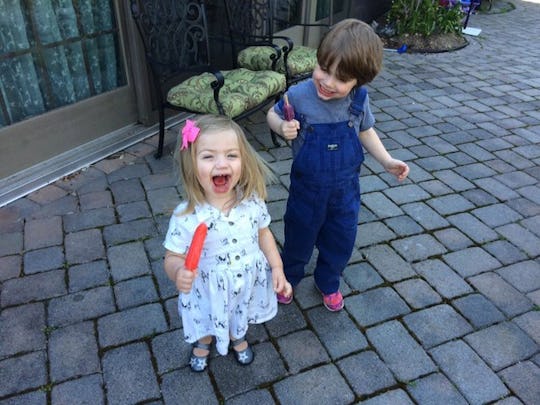 Courtesy of Jamie Kenney
7 Reasons Being 'Two And Through' Is Perfect (For Some Families)
Years before we procreated, my partner and I agreed that we wanted three children. Three was the perfect compromise between the one child he wanted and the five I wanted. When we had our first it was clear that we'd want another (I mentioned "the next baby" when my doctor was still stitching me up from my emergency c-section). Days after my son's second birthday, we started (and were successful) at getting pregnant with our second. However, with my daughter securely latched on to my uterus, I felt a shift. I just knew this was the last baby I wanted to have, and felt like being "two and through" was perfect, for us.
Our daughter was born and those almost certain feelings I'd had throughout the duration of my (admittedly obnoxious) pregnancy, were solidified into complete certainty. Yes, she would be my last baby. Yes, I was absolutely done. I didn't mention anything to my partner right away, but a couple of months later he randomly said to me, "So, this is it for us, right? Just the two. Are we on the same page with that? I feel like we are."
We had never spoken to each other about no longer thinking three children felt or was right for us, but we somehow both, independently from one another and without extensive conversation, felt the same shift and the same completion upon the birth of our second child. The relieved conversation my partner and I shared after this revelation wasn't only seamless and welcomed, but highlighted the following reasons why two children was perfect for our family.