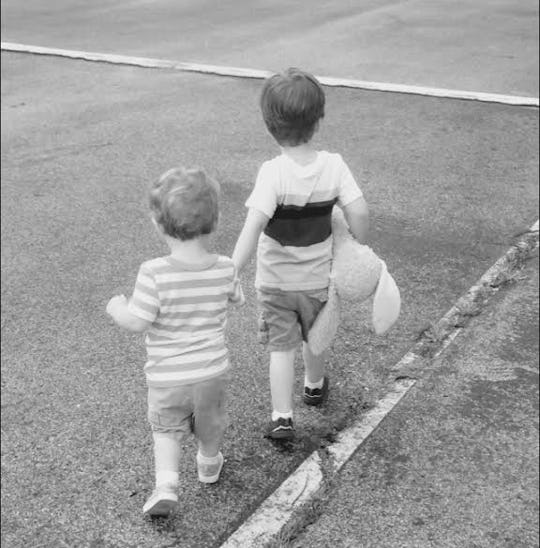 Courtesy of Hannah Westmoreland Murphy
15 Times When Having Two Kids Under Two Is The Absolute Best
My partner and I found out that we were unexpectedly expecting our second child when our first was only eight months old. I was six weeks along when my pregnancy was confirmed, and when I did the math and figured out how close in age our kids would be (15 months), I was terrified. I spent my second pregnancy dreading the circus act that I assumed my life would be, knowing I would be raising kids so close in age. Thankfully, I've come to realize that there are times when having two kids under two is actually awesome. Yes, really.
When I explain to people that I would have two kids under the age of two, people typically respond with wide-eyed looks of terror, dread, and sympathy. "Oh, you poor thing," some of them would say, as I'm certain they were offering me their unspoken prayers. Don't get me wrong, some of those prayers were definitely needed because, well, having kids close in age is a struggle, but now that I'm almost two years into it, I've hit my stride and I'm actually grateful that my boys are so close in age.
My husband and I considered being a one-and-done family. In fact, the night before we found out I was pregnant, we were talking about how we would be completely content with only one child, but deep down we knew we wanted our son to have a sibling he could be close with. Though our second pregnancy was a surprise, one that absolutely terrified me for an extended period of time, it ended up completing our family in the most perfect way. Yes, sometimes our lives might resemble that circus I initially feared, but I love my little animals and I wouldn't have it any other way.
So, if you're expecting again and you've done the math and you're realizing that you'll, eventually, have two kids under two, have no fear. Everything is going to be just fine. Not just fine, actually, but really freakin' awesome, and here are just a few reasons why: