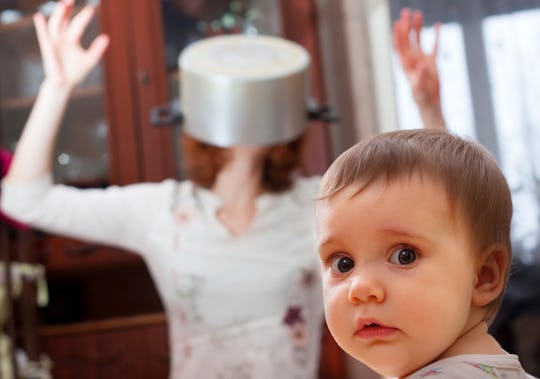 Fotolia
12 Moments That'll Make You Feel Like You're Failing As A Mom (And Why You're Not)
I have been a mother for not even two years, and I have already felt like I'm failing at the job a solid five thousand times. At least. I honestly can't help but think that constant self-doubt and motherhood go hand-in-hand, as I haven't spent a significant amount of time feeling completely confident in my abilities. There are simply an endless amount of moments that'll make you feel like you're failing as a mom, even when you're not. They're inescapable; They're inevitable; They'll leave you questioning your sanity and your choice to reproduce and whether or not you're really the right person for the job (hint: you are).
As my son continues to learn and grow, these moments of complete self-doubt have evolved. I used to think I was failing because I simply didn't know what I was doing. A newborn can stump even the most confident and well-researched of new mothers, and my little bundle of joy gave me countless moments where I felt like I was failing him. From the times I struggled breastfeeding to the times I couldn't get him to stop crying to the times I honestly didn't want to change a single diaper again for the remainder of my life, having a baby makes you look at your abilities (and your failures) in a way you probably never have before.
And now that my son is a toddler, we've crossed the threshold into tantrums and potty training and, well, feeling like a failure has become somewhat of a second nature. Rationally, I know I am not failing my son and that I'm a great mother who is doing her best, but emotionally and physically I feel like I'm constantly teetering between perfection and a total meltdown of epic proportions, of which this world has never seen.
So, in the name of complete solidarity for all the mothers who have ever felt like they're complete and total failures, here are a few moments when you'll feel like you're doing your worst when, really, you're doing your best. Hang in there, mom.